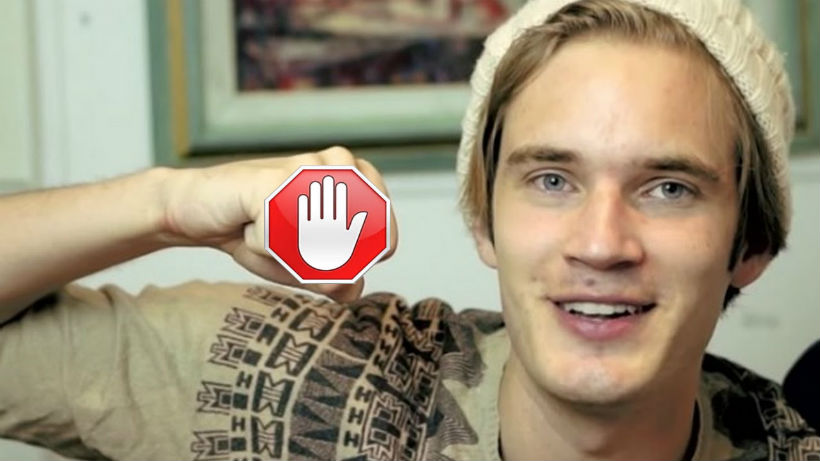 Love or hate his videos, PewDiePie is an important person on YouTube. He makes a ridiculous amount of money from playing games and is something of an idol for those looking to get into the YouTube game – even if they don't want to replicate his content, of course they want to replicate his success. However, it's increasingly difficult for new YouTubers to penetrate the market, something made even more tricky with the launch of RedTubeYouTube Red. And PewDiePie explains one of the main reasons.
Over on his blog, PewDiePie explains some thoughts on YouTube Red. He acknowledged that despite the fact that he will have a new show on YouTube Red, he knows that many people haven't been happy about it. Many of those people are wondering why YouTube would switch to a paid model, especially when it's a part of ad-giant Google. Well, apparently YouTube is losing money, even though it gets more than a billion viewers. So, what's the problem? A big part of it is Adblock.
Based on his own stats and info, 40% of PewDiePie's viewers use Adblock, a percentage that has grown over the years:
It's a number that has grown a lot over the years, from roughly 15-20% when I started. And it's not unlikely that it will keep growing.

What this means is that YouTubers lose about 40% of their ad income.

Personally, I'm ok with if you use adblock on my videos. Ads are annoying, I get it, I'm not here to complain about that.

But for smaller channels, this number can be devastating.
YouTube Red had to resort to a paid model to compete with the likes of other streaming services. Sure, it would have been great to continue offering free content to people who want it, but once people use Adblock, it simply isn't affordable, let along profitable.
Advertising trends are already changing so much, with many companies and brands moving away from using pre-made ad reels or banners, opting instead of content marketing – those sponsored YouTube videos that show off their product but from the personalities you already know and maybe love. Those can't be Adblocked, plus they tend to feature normal engagement figures for those personalities, something that makes the sponsors very happy. Of course, this is even more of a problem for YouTube as they are completely unable to get any funding from that sponsorship arrangement.
Again, for the giants of YouTube like PewDiePie, it doesn't really matter – he's obviously still making a ton of cash. Still, if that ridiculous sum of money is based on only 60% of what he should have earned from ads, just imagine how that plays out for the smaller guys looking to get into the YouTube scene. Also, it's impossible to run a business when you're only actually getting 60% of the money you should be – even for a giant like YouTube.
Personally, I'm not sold on YouTube Red, mainly because I'm not sure which content I'll be keen to pay for. However, I don't use any form of Adblock. Most sites aren't too bad, with advertising displayed in unobtrusive banners; for those sites where advertising is done like it was on sites in the 90s, I tend to just stop visiting rather than worry about irritating pop ups. I'm not going to try and shame people who use Adblock – I know ads can be irritating and it's your choice to install whatever you want on your own machines. But don't be surprised at the consequences of those actions – people will always need to pay rent and buy food, and if you eliminate ad revenue as a possibility, they will need to look to other models to support themselves.
Last Updated: November 2, 2015