Phantoml0rd has always been one of the big spenders during his streaming hours. Dropping exuberant amounts of money (skins) on various betting sites, Phantoml0rd always pulled in thousands of viewers who would literally sit and watch him gamble. He was part of the original problem when Twitch viewers lobbied for a gambling subcategory as Phamtoml0rd did little to no actual CS:GO anymore. Needless to say PL won a lot of money, and I mean a metric crap ton of cash via one site in particular – CSGOShuffle.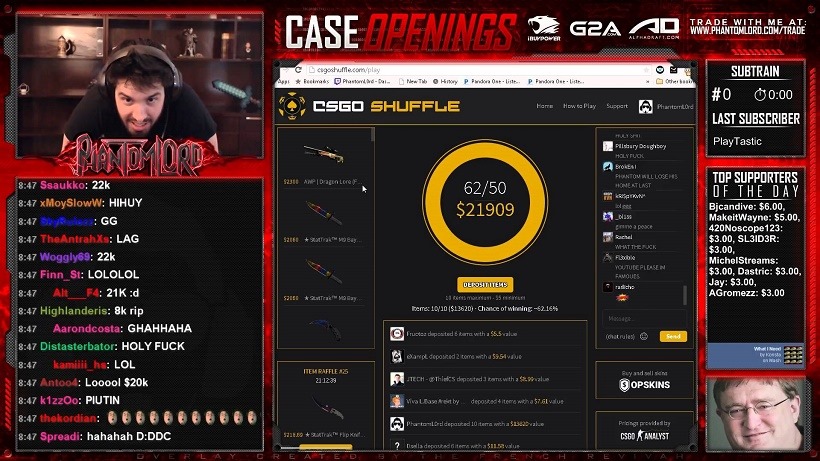 After Tmartn and Syndicate were exposed for their undisclosed ownership of the site CSGOLotto, an aura of doubt was cast on almost every big spender who partook in the lucrative skin gambling world. It's a shady world which Valve put a damper on when they changed their trading regulations last week  – which has somewhat done away with gambling sites who occupied a grey area in the gambling world. We thought the gambling drama was done, for now, but it seems the world's best eSports journalist, and personal hero of mine, Richard Lewis has uncovered another snake in the grass.
The video above is mostly a Skype conversation between the developer of CSGOShuffle, Joris, and James "Phantoml0rd" Varga, the assumed owner. Richard Lewis uncovered these documents from an unknown source who had hacked into PLs Skype trying to perhaps get ahead on some skin gambling. It was there that he uncovered the horrible truth that Phantoml0rd was perhaps owner of CSGOShuffle. There was money trading hands in terms of payments for Joris, and it seems that percentages may have been altered to favour Phantoml0rd as he placed bets live on stream. In the Skype conversation Phantoml0rd even indicated that FaZe Clan (or members of) may also be involved with the gambling site CSGOWild, which has since also come under fire.
What Phantoml0rd has done here is extremely shady, and illegal. He could honestly face charges and even prison time for what he has done. He has conned people out of large sums of money by asking a developer to tell him the odds on certain bets. He also broke the Terms of Service of both YouTube and Twitch, which are his main source of income. Let's not forget how this conversation has led members of the FaZe Call of Duty team on a damage control warpath as they've gone around editing and taking videos down.
Phatonml0rd has not responded on any social media since this news was made public. It's clear that he is not trying to make the same mistakes as CSGOLotto by going on social media.
Last Updated: July 18, 2016