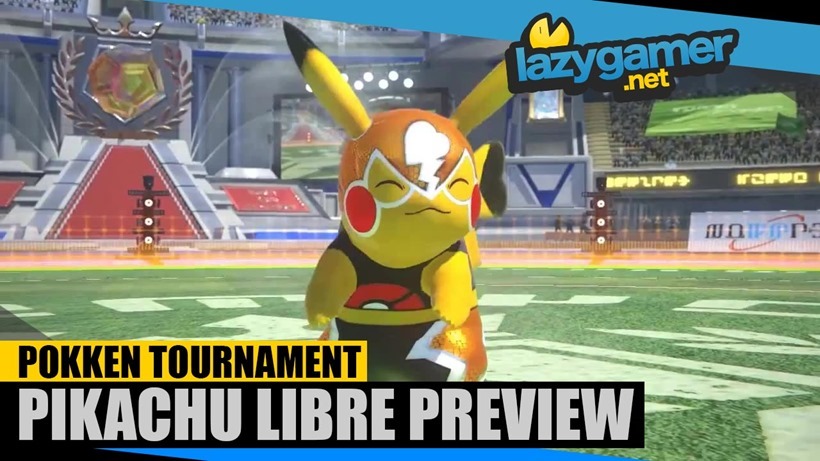 We've been playing with Pokken Tournament, a game that is equal parts Tekken and Pokémon. And that's not surprising, given that Bandai Namco's premiere fighting game franchise has left its DNA signature all over the pocket monster universe, in much the same way that UV lights can turn an ordinary hotel bed into a Stephen King's novel worth of nightmare fuel.
It's a hybrid of Pokémon and Tekken that somehow works better than you'd expect it to. But that's not what makes Pokken Tournament so interesting. No, the best part of the game isn't the lovely visuals, tight combat system or interesting mechanics. It's Pikachu Libre:
Look, Pikachu Libre is essentially god, without having to be thrown off of a steel cage at a 1998 Hoopa in a Cell pay per view. An ordinary Pikachu is already powerful enough to tussel with fully-evolved dragons and ghosts in Pokken Tournament, but Pikachu Libre? Donning wrestling tights and a mask is the equivalent of a mega-evolution for the little electric lucha libre star, a power-up that allows it to deal all manner of ridiculous damage out on any Pokémon that crosses paths with the most electrifying pocket monster in Pokémon sports entertainment.
What, you think a Charizard that can mega-evolve with some Charizardite X stands a chance? Pikachu Libre will drop a Stone Cold Stunner so hard on his neck, that you can feel the righteous anger of every "fainted" Pikachu that fell to the hands of the starter dragon. Pikachu Libre is a trebuchet of electric fury that lands with the extinction-level impact force  of the Tunguska event.
And this is just in my hands. Imagine Pikachu Libre in the hands of someone who knows what they're doing. Imagine Pikachu Libre entering the ring against an uninformed Garchomp user, and decides to paint a Van Gogh level masterpiece with the fluids of that poor victim. Pikachu Libre man. If EVO 2016 isn't a showcase of immortal rats that channel the heavenly superstar power of the late, great Eddie Guerrero during the Pokken Tournament showcase, I'm going to be disappointed.
That's it for this preview of Pokken Tournament. Stick around for more before the eventual reviews land.
Last Updated: March 7, 2016