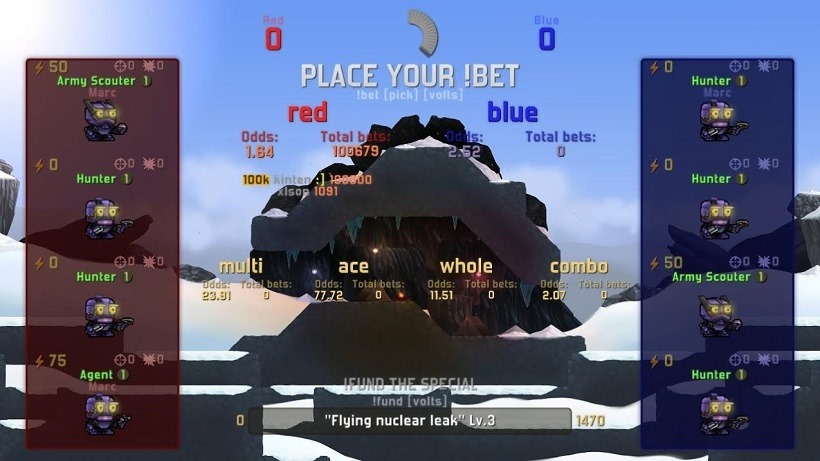 I will never condone gambling. It's a dangerous road to travel, and one that can end in bankruptcy, heartbreak, and hey is that a Twitch stream where I can bet on the outcome of battles between Cobalt bots? BRB!
Watch live video from bot_cobalt on www.twitch.tv
It sure looks like it. There are payouts, losses, odds, and… Volts? What the hell is going on though? The Mojang Blog has the answer (via PC Gamer):
Team Strike is one of Cobalt's most intricate modes. And it makes for a fantastic spectator sport, even when it's played by bots. With that in mind we've set up a two week twitch stream where teams of bots battle each other to the death. TWO WEEKS of awesome. But what's a sport without a little wager and real-life prizes? Pointless, that's what.
This is all being done to tie in with the launch of Cobalt, which will be out on February 2nd.  If you've ever wondered what the game is all about, or whether it'll appeal to you, there is no better way to know for sure than via this endless stream of bots waging war!
And to make it all interesting of course, Oxeye Games, the developers, have implemented some casual gambling to heat things ups. I say casual because there is zero real money in play here. There are some awesome prizes up for grabs though…
We're giving REAL-LIFE prizes to the top winners on February 2nd at 12pm CET. The top five richest players will get a Cobalt game code on their platform of choice, and a signed cobalt postcard. The players in position 6-10 on the rich list will get a Cobalt game code for their platform of choice.
If you don't have the time to worry about placing in the top 10, fear not! You can opt to raise 100,000 Volts instead…
Any player who reaches 100,000 Volts will be automatically become a member of the 100K club. All players will be entered into a raffle on release day and will have the chance of winning 1 of 100 Cobalt game codes or 1 of 15 signed Cobalt postcards.
Let me rephrase what I said earlier. I will never condone gambling in real life, because it really can lead to some hectic problems and issues. This on the other hand… this is cool. What a neat way to get people interested in a game!
Last Updated: January 20, 2016