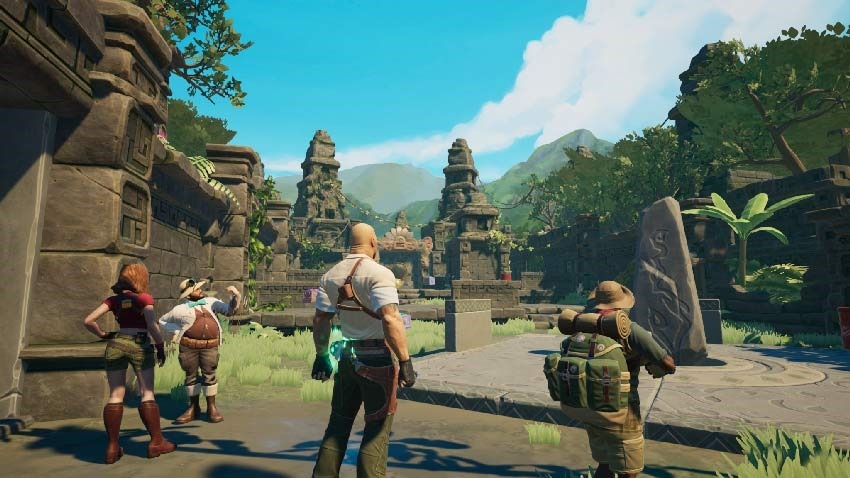 Much to my surprise, I enjoyed the recent Jumanji: Welcome to the Jungle; a sequel that nobody actually asked for. Much of that comes down to the chemistry of its cast and the transformative performances of Dwayne "The Rock" Johnson, video game YouTuber Jack Black, Karen Gillan and Kevin Hart.
Soon you'll be able to play as them in a new Jumanji video game that nobody asked for that will have you and up to three co-op friends playing as the characters inside the videogame that the teenage characters in that movie get sucked into. Says the press release:
"Unite with up to three friends on this hilarious adventure in online or split-screen modes, as you tackle all new Jumanji environments and choose your hero from Dr. Smolder Bravestone, Ruby Roundhouse, Franklin "Mouse" Finbar or Professor Shelly Oberon and combine their unique abilities to keep one another alive.
The game's being made in Unreal Engine 4, and is coming to PC, Switch, PS4 and Xbox One in November. It'll be developed by Funsolve, with Bandai Namco doing publishing duties in Europe.
"This is a dream come true for our studio" Funsolve Founder and Director, Richard Tawn said "Adapting the exotic, dangerous and hilarious world of Jumanji into a video game has pushed us to create something truly special. We've got some incredibly exciting features and reveals coming soon, but for now let's just say the game is coming this November, and puts you in the shoes of iconic Jumanji heroes."
RETURN TO THE JUNGLE –Play as movie heroes Dr. Bravestone, Ruby, Mouse, and Prof. Shelley in a hilarious new 3D action adventure
TEAM UP –In online or split-screen modes, work together with up to three friends or AI teammates to defeat enemies, survive deadly traps, and save the world
DANGEROUS LOCATIONS –The world of Jumanji gets bigger with beautiful but deadly new mountain, city and jungle environments
ENDLESS ADVENTURE –As you hone your skills and strategies, and unlock new outfits and weapon styles, no two rounds of Jumanji are ever the same!
It looks like it's aimed squarely at the youth with its simpler, stylised aesthetic that's a little reminiscent of Fortnite. I sincerely hope I'm wrong because I'd be down for a co-op adventure game. It's a curious game, to be sure. It's something that would probably have had a little more traction were it released alongside the film – but maybe it'll bridge between the last film and the impending third Jumanji.
Last Updated: June 5, 2019