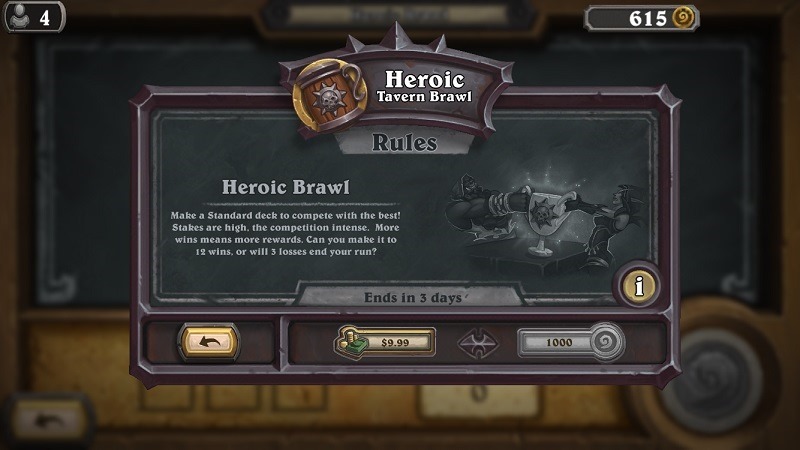 Every Wednesday evening, the first thing I do when I climb into bed is open up Hearthstone. There's always a new Tavern Brawl going live around then, which means there's a free pack of cards up for grabs.
Last night was different. I was tired, but my silly addiction nudged me into starting the app up. "Just one quick game," it said. "Think of those quests you can finish up, and that legendary card your pack might contain." I succumbed, only to find that Blizzard had kicked off not some fun, wacky twisted game like they usually do, but rather, the Heroic Tavern Brawl.
Heroic Brawl will challenge even Hearthstone's most experienced players as they vie for glory and in-game rewards! Participants will create a Standard deck from their existing card pool and lock it in before their first Heroic Brawl match. No changes can be made to your Heroic Brawl deck once you've locked it in, so be sure to do a bit of testing before you finalize your deck.

Once you've locked in your Standard deck for Heroic Brawl, you'll be pitted against other Heroic Brawlers in heated battle. Just like the Arena, you want to shoot for 12 wins to get the best rewards—but if you get three losses, you're out!
When I first wrote about the Heroic Tavern Brawl in October, I was in two minds about whether I should take part or not. Now that it has arrived, I'm glad I don't have the 1000 gold required to enter. I'm by no means a great Hearthstone player, so I'd probably go down 0-3, and squander all my hard earned coins. I mean, I only crack rank 16 on a good month. What sort of chance do I have against those who live and breathe the card game?
If you are one of those people, well, you couldn't ask for a better brawl I suppose. With the right deck, hard work, and a spot of RNG luck, you can nab yourself some epic rewards!
For Hearthstone's best brawlers, 50 packs, a heap of Gold, piles of Arcane Dust, and three golden Legendaries sit at the end of the 12-win rainbow. The rewards are significantly different than what you have come to expect in the Arena, and the more games you win, the better they get.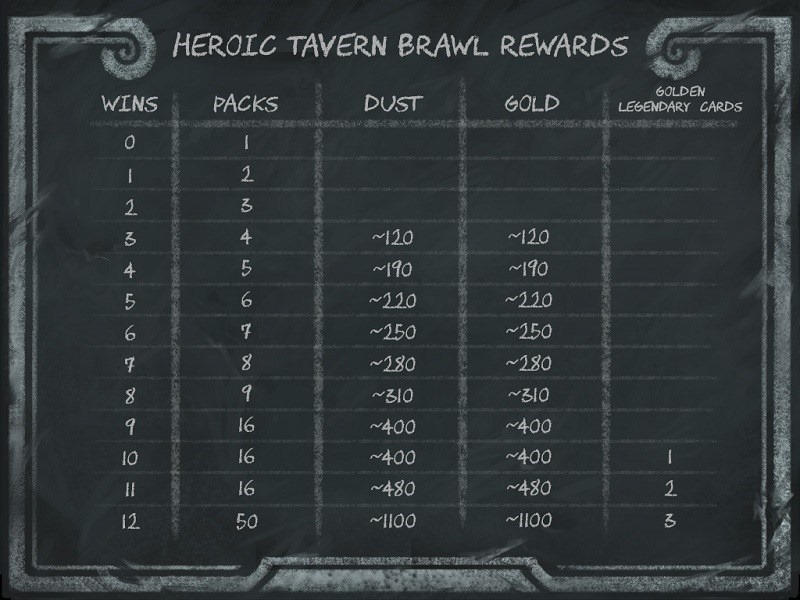 As for the rest of us, I guess we'll have to wait a week or so for normally scheduled programming to return. Don't get me wrong, I'm all for the Heroic Tavern Brawl, it's just annoying that it occupies the fun mode's slot. Couldn't Blizzard have pasted it in the Arena tab instead?
Last Updated: November 17, 2016