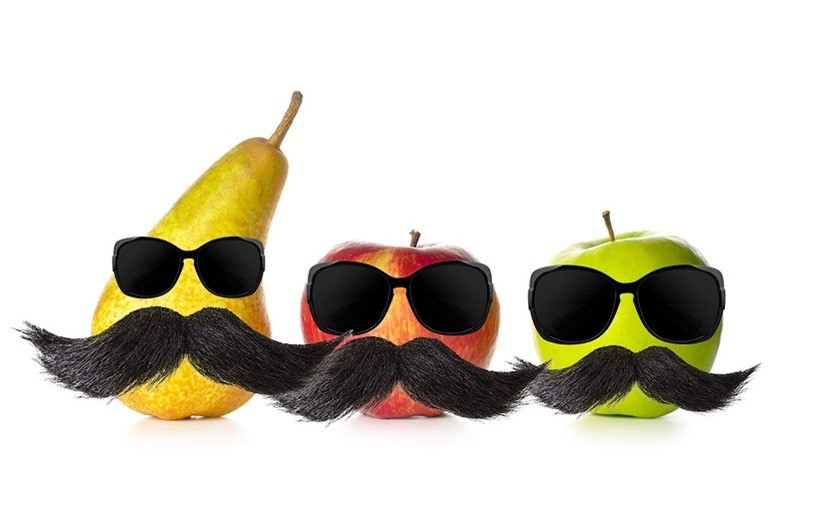 About a month ago, I received a message from Paul Milewski – an ex South African chap who now lives in Poland, and works for Dying Light developers, Techland Games. He received the following email from somebody claiming to be me…
Hello there! I hope i m writing with a developer.

My name is Matthew "Matt" Figueira(27) and i m an author from LazyGamer.net here is my profile; https://www.criticalhit.net/author/matfig/ and i m testing all kinds of steam games(especially video games and sometimes indie games) and writing articles about them on lazygamer.
I saw your Call of Juarez game series on steam and found your mail address. I think they will be one of the good choices for my new "Best Action-FPS games" article/review. I want write a nice contribution about Call of Juarez game series. Can you please send me presskits and steam product codes for your Call of Juarez game series?

Take care!
Paul, spotting this as a fake immediately, forwarded it to me, but not before he had replied to the sender. To cut a long story short, he ended up confronting the imposter, who replied with the following…
Believe or not i am Matt and i dont need your games in any case. I will find games like Call of Juarez series. Yes, my English lil bit bad because i m from South Africa, but it is not problem for me and job.My friends or editors re fixing my grammar mistakes.

Also…

As jy nie die mense te vertrou, kan jy nie iets te wen.

Thanks anyway.
After seeing this, I thanked Paul, and considered myself lucky that he brought it to my attention. I was silly though. I never took any action. I brushed off the whole affair, and assumed that the impostor would realise that they had been caught out. Surely he/she would cease and desist? Of course not.
Last week, I received a message from Artifex Mundi – a game development studio. They too, had received a message from somebody claiming to me, from the very same email address that Paul had earlier this month.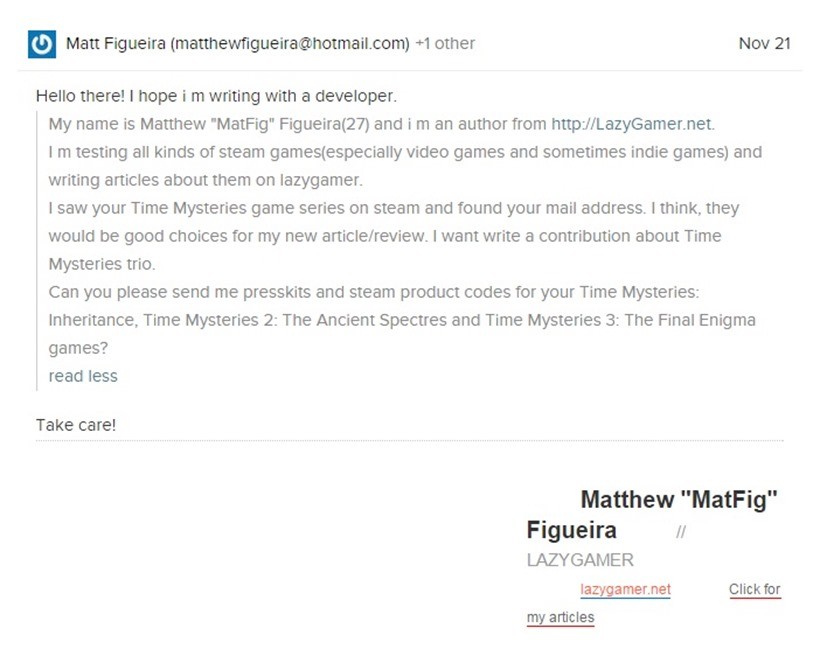 That was the last straw, which is exactly why I decided to write this article to bring it to everybody's attention. How many people "Matt Figueira" has approached and asked for games, I don't know, but it needs to stop immediately.
If you are a gaming developer, or anybody for that matter, that has received an email from the above address, please be aware that it is completely fake. My official point of contact is Matthew@lazygamer.net and nothing else.
(Header)
Last Updated: November 30, 2015