During the eSports Branding Summit at rAge, comedian turned eSports extraordinaire Gareth Woods discussed millennials and eSports. It was an interesting take on the branding opportunities and spoke directly to the evident growth of the industry. Yesterday, statistics site Newzoo reported that eSports is more popular than Ice Hockey among millennials and while South Africa may not care about Ice Hockey, it's clear that the phenomenon is growing, and that's great.
As per usual, Newzoo offered one of their ever so informing infographics showing the reach of eSports on a ranging spectrum among males.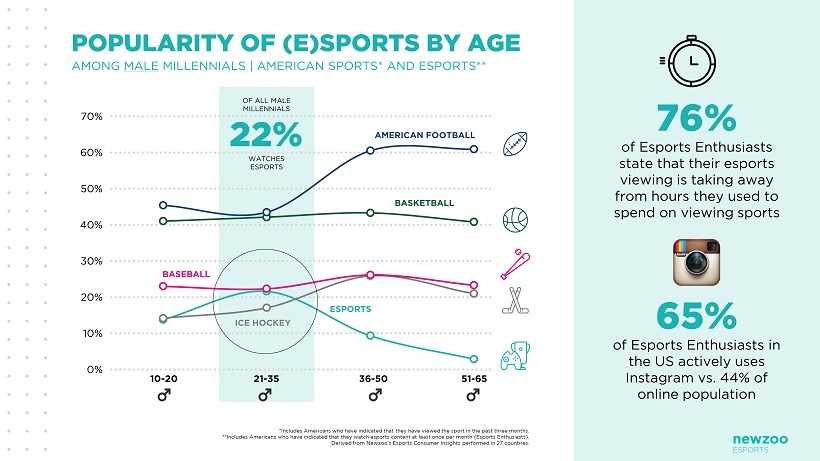 In the range from 21-25 eSports is catching up on another North American past time – Baseball. This clear overlap places emphasis on the current interest from basketball organizations and players who have began investing in eSports. The branding opportunities make sense, and while there is a large disparity between fans of basketball and eSports (as the age goes up) there is an overlap right in the middle with regard to baseball. The bridge between basketball and eSports is slowly closing as older fans will become immersed in the rise of eSports branding, as stated by Pieter van de Heuvel, head of eSports at Newzoo:
"The huge interest in esports from sports celebrities, clubs, media companies, and brands alike illustrates how games are leading the media and entertainment business toward a new future that has more in common with games than not. Games bring innovation in tech and consumer business models, and have a unique ability to engage with and actively involve the younger generations. Traditional and digital media and sports companies bring experience in providing advertisers with an effective communication platform. There clearly is a natural, strategic, and commercial fit."
The other interesting infographic speaks directly to fans of eSports, who watch baseball, which does show a slightly clearer comparison outlining the long road ahead.
There has been some interest shown by the MLB with retired athletes investing in eSports. As mentioned above there is still a long road ahead, but the combined integration of eSports into conventional sports is slowly closing the gap on millennials who have interest in both industries, and those who don't.
It would be interesting to see, in the future, how eSports fares in South Africa with a similarly compiled report from one of our statistics websites. Until then, we can continue to guage the comparison internationally in the hopes that similar growth is seen down here… soon.
Like esports?
Check out esports central
Last Updated: October 14, 2016