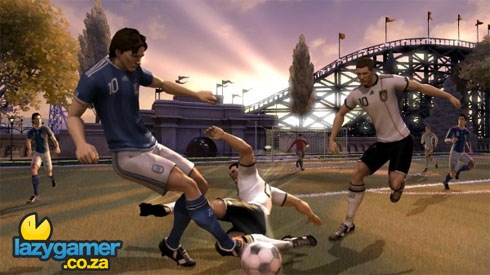 Man, what a weekend of awesome, awesome football – or soccer, if you prefer. While both are perfectly acceptable when referencing the beautiful game, purists believe the term "football" to be the only correct term – with many believing it's an American term to help differentiate between proper football and that hand-egg stuff they play.
They're wrong. Soccer – originally socca -  as it turns out was an Oxford slang bastardisation of "association football" that gained prominence in the late 1800's – a time when the English were still busy colonising everything. It stands to reason that the term still employs use in its former colonies; the USA, Canada, Australia, New Zealand and South Africa. Generally though, the international community prefers it be called football – and calling it soccer might get you punched in the face.
I seem to have gone off on a rather large tangent here though, because the point of this post was to announce the winners of this weekend's Pure Football competition. Winners after the jump, clicky click to see if you've won!
Here are your winners!
Kaya Searll,
Warren Leibbrandt,
Karen Geldenhuys and
Peter Naujoks
Have each won themselves a copy of Pure Football on Xbox 360 courtesy of Ubisoft; While
Michael Mullaney and
Morne Coetzee
Have scored the game for the PS3.
Please send through your details to geoff@lazygamer.co.za, and we'll get your prizes sent off to you!
Congratulations to the winners, and once again a huge thanks to Ubisoft for sponsoring the prizes.
Last Updated: June 14, 2010