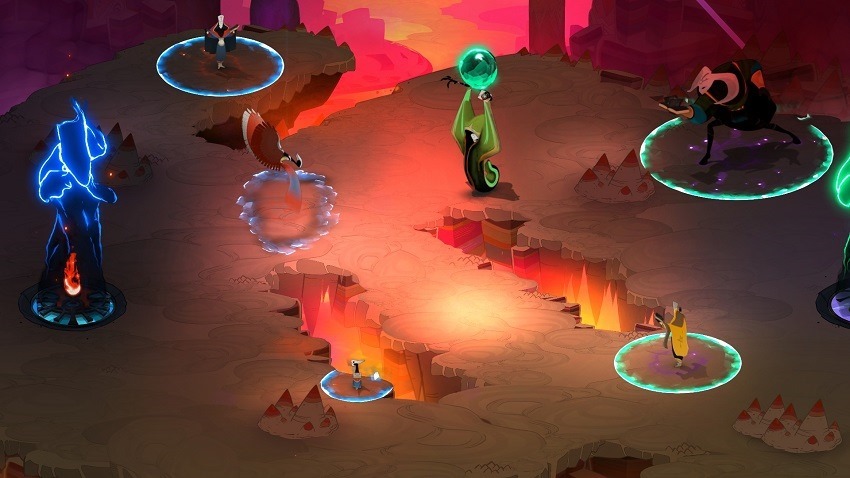 SuperGiant Games is one of those independent developers that always demands my attention. And that's not too surprising when you look at their past work. Bastion was a seminal action-RPGG, and their craft only improved with Transistor – a similarly fashioned turn-based RPG. Their games feature real personality, seeping into the art direction, tone, and lore that they present in fascinating ways. And it looks no different with their third project, Pyre.
Pyre has been in development for nearly three years now, but thankfully we won't have to wait much longer to play it. SuperGiant Games has revealed that the action RPG will launch on July 25th on PS4 and PC, with a 10% discount for anyone looking to pre-order it now. Speaking on the PlayStation Blog, SuperGiant explained that Pyre is their largest game they've ever made, with a full campaign and even multiplayer components for players to look forward to.
Pyre has been in development for nearly three years. We can now safely say that it's the biggest game we've ever created, offering substantially more ways to play and more characters to meet than either Bastion or Transistor before it. With each new game we've made, we've endeavored to push ourselves out of our creative comfort zone to make something that felt fresh to us, in the belief that this would translate to a worthwhile experience for our players.
But what is Pyre? Several gameplay videos have shown off its almost sports-like combat, which has you controlling a party of three characters in what the game calls "Rites". These Rites are like a close-quarters magical battle, where players have to extinguish a flame before their opponent extinguishes theirs. Your three characters each have their own abilities and characteristics, making it a game about speed and reflex as much as it is about strategy and planning.
The story also features a neat "no game over" system, with SuperGiant explaining that the narrative adjusts to your victories and losses in similar ways. They don't want players stuck on a Rite and a static story that requires a win, so your travels through exile will be shaped by your plays on the battlefield. Which sounds rather neat.
Honestly with Bastion and Transistor before it, Pyre has some pretty big shoes to fill. But SuperGiant hasn't really failed us yet.
Last Updated: May 31, 2017