Last week at E3 Bethesda announced Quake Champions, a rebirth of one of the older FPS titles in gaming. The launch trailer left an uneasy taste in the mouths of true Quake fans as it included elements we've become custom in recent MOBA titles. The name "Champions" also left most fans wondering whether the new game would feature characters with attributes and abilities, not stay true to Quake's nature. We can all rest easy now as German gaming channel Rocket Beans TV held an interview with ID Software's Tim Wilits where he explained their direction, and explicitly stated that Quake Champions is not a MOBA.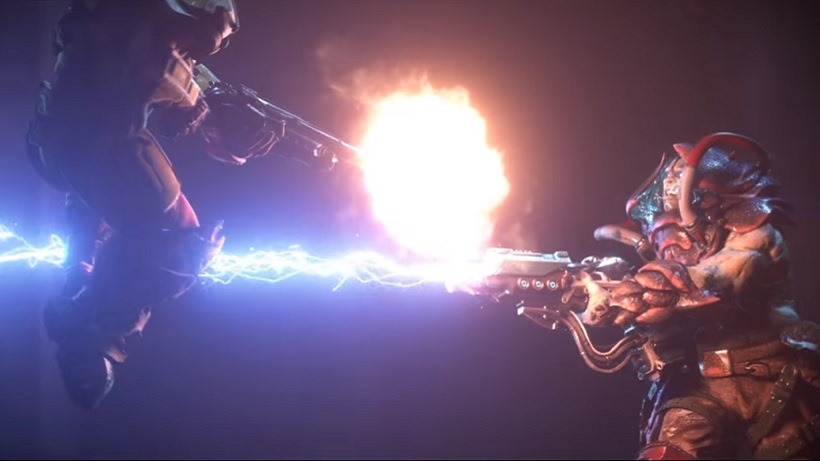 The announcement was followed with a talk by Bethesda about the direction of Quake Champions and an extremely important statement was made. Quake Champions will be developed as a competitive eSport and this is an important consideration when looking at the history of Quake as the eSport that started it all.
Here are some key notes taken from the video for those who do not have 7 minutes to spare.
It's NOT a MOBA.
Quake Champions will be a classic style competitive arena shooter, as it always has been. The addition of "champions" is a natural progression in this day and age of gaming since it does not change the game, but gives a direction to what players want to do.
Quake Champions will be unlike Overwatch, Blizzard's sucessful arena style shooter, which was an important comparison when considering the timeline of the launch. Quake Champions will be the age-old violent, gritty shooter with high speed gameplay that all fans know and love.
Quake, in its essence, and Quake Live has been running for almost 16 years. Bethesda plans to bring old Quake fans and new over to Quake Champions by keep a lot of the factors which made the game great in the first place. Shoutcasting, supported tournaments, and more, but with a modern twist. Although the game will have a much more modern feel, the movement will still stay true. Rocket jumping, strafing, fast gameplay, and movement will still feel like the original Quake with the added benefits of an upgraded game.
The announcement of Quake Champions comes after a successful resurrection of the DOOM franchise. According to Tim Willits, this make the announcement of Quake Champions a whole lot easier riding on the success of DOOM.
Quake will be a PC exclusive game with no plans for console ports. The aim for a PC exclusive directly speaks to the driven focus on eSports. Tim Willits stated that Bethesda want no limitation when considering the performance of DOOM (something, something, PC Master Race).
Quake Champions will have open ended FPS, with no limit, since speed is of such importance in Quake. Developments target is 120Hz unlocked framerate. This is important when considering how important each millisecond is at the highest level of gameplay.
Game modes will include deathmatch, team deathmatch and all the modes players remember from the original Quake. The modes will undergo development, however, to make the game the perfect eSport with all guns and items being available for pick up.
Bethesda stated, and this important, that they are listening to the fans.
There will be a closed beta testing phase with no dates announced at the moment.
With this information it's clear that Quake Champions will be a revolution in the series with both Bethesda and ID Software making sure they stay true to the core fans of the series. Unfortunately nothing was mentioned on the abilities seen in the trailer, but these could be new items available for pickup in the game, or character specific attributes.
Last Updated: June 20, 2016