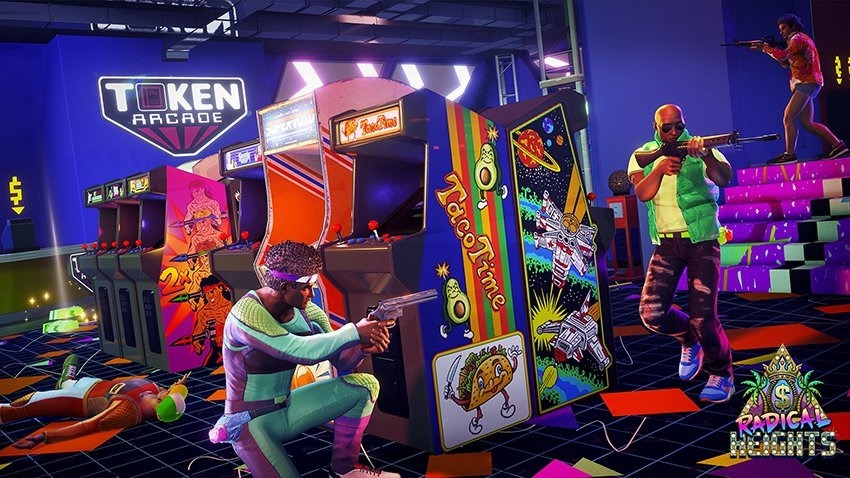 It's safe to say that Boss Key Productions' Lawbreakers was a monumental failure. While a fun game, it was overshadowed by both Overwatch and PlayerUnknown's Battlegrounds, never really picking up much of a player base. With Boss Key admitting defeat and throwing in the towel, Lawbreakers is now dead. Boss Key said that it would be moving on to new things, but we didn't realise it would be this soon. Or this tubular.
Yesterday, the company revealed Radical Heights, a new Battle Royale in a genre that's soon to be oversaturated. It has an 80's aesthetic to it, along with a lot of Running Man inspiration. A hundred players battle it out, competing for cash prizes while trying to obliterate each other with zany weapons.
"This is a five month passion project for the studio as we're creating and publishing the game entirely by ourselves,' commented Radical Heights' Creative Director, Zach Lowery. 'We're huge fans of Battle Royale games along with the bright, inviting irreverence of the 80's aesthetic. Because of that, we want to put our own spin on the genre and create a futuristic 80's world that takes place in 2023 during an over-the-top game show where contestants battle it out for fame and prizes."
It's filled with other nods to the 80s and early 90s, littered with things like BMX bikes, mullets and neon everything. It launches today as a free-to-play game, though there's also a $15 founders Pack that gives players extra cosmetics.
Take a look!
It looks decidedly awful, with janky animations and an appalling dudebro raditude – but hey, it could end up being fun. Let's hope it fares better than Lawbreakers.
Last Updated: April 10, 2018