So, the time had come for me to finally get my hands on DJ Hero.
After seeing quite a few of the trailers and gameplay videos, I realised that I still had very little idea of how the game actually worked and what one actually needed to do to perform the necessary moves scrolling down the screen.
I broke out my wah, prepped my wiki-wiki and warmed up my fingers to give the game a first hands-on go.
It goes without saying that DJ Hero is hoping to garner some attention off of the success of the Guitar Hero games but target a different market of gamers. While all the rock fans are getting their fix with the myriad of guitar and band based titles, the poor little hip-hoppers have been sitting in the corner with their hats off to the side wondering when they will get something they can play as well.
Let me try and explain the controls.
You have a turntable with three buttons on it, when a note comes around on screen you have to hit the corresponding button in the same way that you would in Guitar Hero. What you also have to do, when prompted by a long string of graphics on that color showing a scratch motion, is hold down the right button and then move the disc back and forwards in the same way that you would scratch on a real record.
There is also a slider that is controlled by your left hand that requires that you to move it left, right, or keep it center depending on where it tells you to keep it on the screen. Your left hand is also used to control a dial that can be used during certain sections to change out certain sound effects as well as activate the games "star power".
On more difficult levels, extra inputs are added, like needing to pull the record back 90 degrees and so on. I had a go on Hard and found it easy enough to get into, especially thanks to the fact that I couldn't fail in this demo.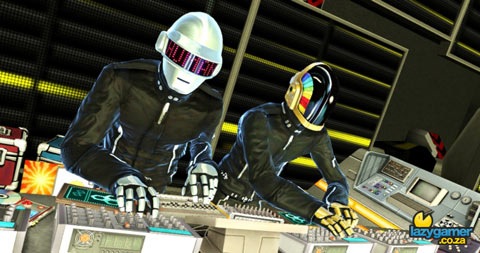 While it is fairly difficult to explain how it actually feels to play the game, I found myself very surprised by how much fun the game is to play when you actually try it for yourself.
When I asked about the multiplayer, I was told that two players would be able to battle against each other using two turntable peripherals but what is even better is that a second player can plug in a guitar and play co-op guitar alongside the DJ, which is a big plus and a very welcome addition to fans of Guitar Hero that may want to take a look at this title as well.
We are in a day and age where a lot of people are getting tired of music games and also getting a little sick of the mountain of peripherals that they have lying around. This game looks to target those people who have not necessarily had the chance to play a rhythm game that uses the music they love and with the addition of the guitar co-op and a pretty awesome sounding playlist, DJ Hero has me interested.
I have also been told that the game will have a RRP of R999.99 and considering the price of games lately and the cool peripheral that comes with it, I actually think that a lot of people may be very interested in picking it up.
Check back soon for our full review on DJ Hero.
Last Updated: October 5, 2009