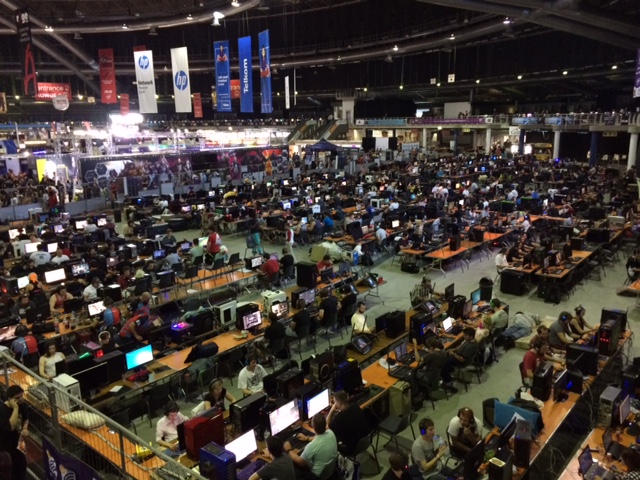 Another year, another Really Awesome Gaming Expo. But was it really all that and a bag of incredibly expensive Ticketpro Dome chips? With the entire Lazygamer crew present at rAge, opinions were running wilder than Hulkamania.
Here's what we thought of the biggest gaming expo on the continent this year.
Darryn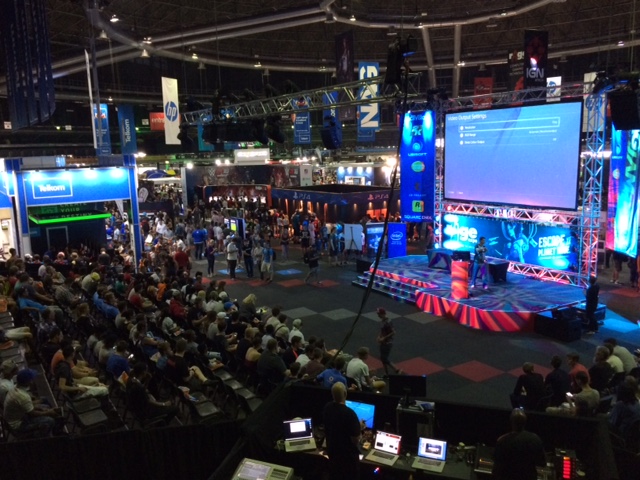 It was hot, sweaty and felt like a sardine can ready to explode at any given moment. But enough about my Mango flight up to Johannesburg. Every year, rAge is a highlight on my calendar. And that's because it's not about me, this trip. It's seeing you guys, the fans who keep the gaming industry alive in South Africa, getting the chance to play with the future. Games that won't be out for months, waiting for you to arrive and grease those controllers up with excitement and love.
Games that are meant to have you salivating, sharing stories of epic moments and keeping the gaming spirit alive and kicking.
I didn't really see much of that this year. In fact, even though it was filled with an ocean of heads from my vantage point up above, rAge felt smaller than ever, when compared to previous years. There was a clear lack of upcoming content of on offer,with the majority of show floor games being the kind of content that most people had already gotten their hands on, earlier in the year.
That signature electric atmosphere of rAge wasn't there this year, with most stands feeling like they were there out of obligation, than excitement. That's a feeling that was felt by walking around and interacting with attendees. Hell, the only time the venue actually lit up, was when free goodies were being handed, as I was almost trampled to death by a swarm of tweens hell-bent on getting their hands on free pens.
And I'm not going to even get into the usual complaints of the Dome being a swelteringly hot pizza oven, that annihilated my cosplay to the point where it was literally falling apart this year. Here's the thing though: You guys saved it. Hanging out with you chaps, talking shop, made the trip up there from PE worth it. And to me, that's worth visiting Johannesburg, just so that I can see your faces every year.
rAge Score: 5/10
Geoff
I've been going to rAge for what feels like 10 years now, so the whole experience feels very much the same for me every year. Sure there are new exhibitors, new stands and new things to see every year (maybe), but it always ends up looking and feeling much the same. But no so much this year.
I actually felt that things were smaller, a little more subdued. While I don't think attendance has suffered much, if at all, it certainly felt like there was a little more in the way of breathing room and walking space this year. If I had a cat on hand, I'd have swung it. Much of that very likely has to do with the fact that Nintendo, usually a huge presence at rAge, was nowhere to be seen – and I hope it's not a portent of a local, Nintendo-less future.
While most of my time was spent sitting in the very air-conditioned press lounge complaining about the heat and the crowds – like the jaded, cynical old bastard that I am. I did, however, take some time to walk about the showfloor to see if I could find or play some cool things. Two playable, as yet unreleased games stood out for me; Cuphead and The Division.
Cuphead is a platforming shooter that's essentially a series of hard as heck boss fights, set in a world inspired by the old Merry Melodies-styled cartoons – ala Isadore "Friz" Freleng. They've not only nailed the aesthetic (and my god, that aesthetic), but also some incredible core mechanics that make Cuphead a game to watch. The Division? Well, it plays as well as the old hype would suggest – and I love that it's an RPG shooter with a focus on the RPG bits; you've got loot, you've got gear, you've got skills and skill trees – and a seamless transition between the open world PVE and PVP stuff.
I also love seeing the work our local developers are up to, and the general excitement people have for homecoded games – often before they even realise they're locally produced. RetroEpic's A Day in the Woods (A clevr take on mosaic puzzles, mostly) and Zero Degrees Games Among the Innocent: A Stricken Tale (aka creepy cabin simulator) stood out most for me – though I didn't get the chance to look at Celestial Game's BAD as much as I'd like to.
Echoing the sentiments of the others though, the best bits of rAge for me are always interactions with others – whether it's chats and beers with new or old friend from the community, or lovely chats with guys from other gaming sites that we don't hate as much as you'd imagine, rAge for me has always, in the end, been about the people.
rAge sc0re: 050/100
Gavin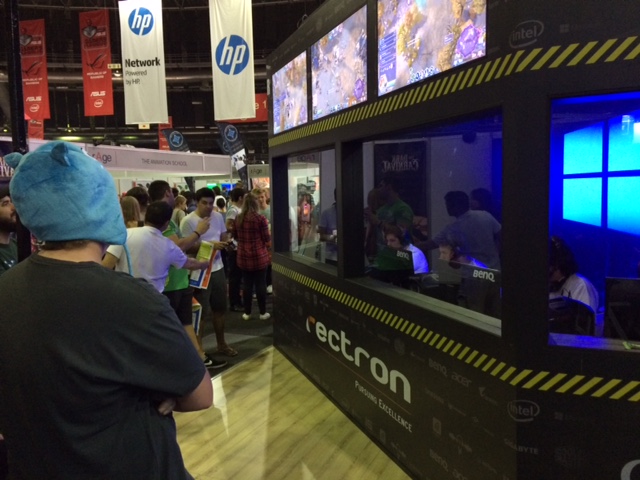 I had full intentions of skipping rAge this year, not because I don't like gaming conventions or the insufferable heat or the crush of sweaty humanity… er actually maybe something to do with that.
But in the end I was planning on giving it a skip as I knew before hand that there weren't going to be many unreleased games on show and to me that is the crucial part of any gaming exhibition. Not only that, but the fact that Nintendo were a total no show also made me worry the expo was going to be a bit of a flop.
But in the end my kids convinced me to go so off we went on Saturday afternoon to take a look and I will have to admit that not only was I a bit disappointed but quite worried about our local industry.
The Xbox One stand had some nice games; Tomb Raider and Cuphead particularly, but their floor space appeared to be tiny compared to last year. PlayStation were again a big presence but all their titles were already released or remakes and that just didn't excite me.
Then with no Nintendo, little of interest from Warner Bros and a very small showing from Apex beyond their headsets (where were the toys, the Minecraft plushies!), it appeared to be left to Megarom to fill the space. But here again I was disappointed. The Black Ops 3 stand was a massive success with queues of reportedly 2 hours for people to get in, the Division was loved by all and Just Cause also had a huge queue outside at all times. They also had WWE 2K16, NBA2K, Guitar Hero, Assassins' Creed, Rainbow 6 Siege and Skylanders on show.
So why the disappointment? Well I couldn't see any of the games I wanted to see being played as they were all behind walls or screens and I wasn't waiting in line for hours on end to try them out either. I don't really see this as Megarom's fault but it did make the dome feel a little boring to me.
I then took my kids to do some shopping and while the flea market stalls were great and easy to get to I found the larger shops like BT Games, CNA and Dark Carnival had massive queues that just put me off. In the end we left the Dome feeling disappointed. rAge felt smaller than it had for a long time and I just didn't feel that excitement that was in the air a few years back.
Let's hope the local industry gets more involved next year else we could be looking at a depressing decline of our favourite show.
rAge sc0re: 4/10
Zoe
I typically enjoy rAge. No, it's not as big or glamorous as E3 or Gamescom, but it has always had a specific vibe and excitement that I adore. rAge is distinctly local, and that's what has made it awesome for South Africans – we get to play games before they're released, see some rad local talent in the form of cosplayers and local game developers, and we somehow keep attending even though we all know the dome will be hotter than a Rocomamas chili cheese bomb.
This year, my highlight actually had nothing to do with the expo itself. As always, it was all about the people for me, and rAge was great in that respect. I loved seeing our awesome and surprisingly tall community members, catching up with those who I've talked to online or in-game, and meeting a whole bunch of frequent commenters for the first time in person. It actually made me want to play more games with you lot, and I'll definitely be jumping back in Helldivers and grabbing The Division when it launches so that I can shoot things with you seriously fun people.
Unfortunately, the expo itself was a bit of a disappointment for me this year. There wasn't anything that I felt compelled to play, and I ended up spending most of my time (and money) in the flea market buying plushies and jewelry. The event seemed more tech-centric, which isn't necessarily a bad thing but just meant that there wasn't as much of a focus on the actual games people might want to be playing in the coming months. The worst of it all? rAge actually let the guys from The Attraction Academy have a stand at the expo. I teamed up with Sam from Tech Girl to interview them, and they were even more offensive than I could have imagined – apparently all gamers are socially inept cretins who should go for training so that they can trick women into sleeping with them. It was gross and sort of a sign that rAge didn't really care about showing off cool games and tech to the South African community, but rather just wanted to exploit them.
I know it's hard for distributors to get the latest games and technologies for us at rAge, and there were a few really fun demos for people, especially for the upcoming Ubisoft games and for Tomb Raider. I just ended up leaving the Dome without that gaming high I usually rely on to get me through to the end of the year. But at least I got to see a whole bunch of rad people, which seems to have kindled a desire to play more with others, so I suppose it's just a different gaming high that I'll ride this year.
rAge score: 7/10
Matty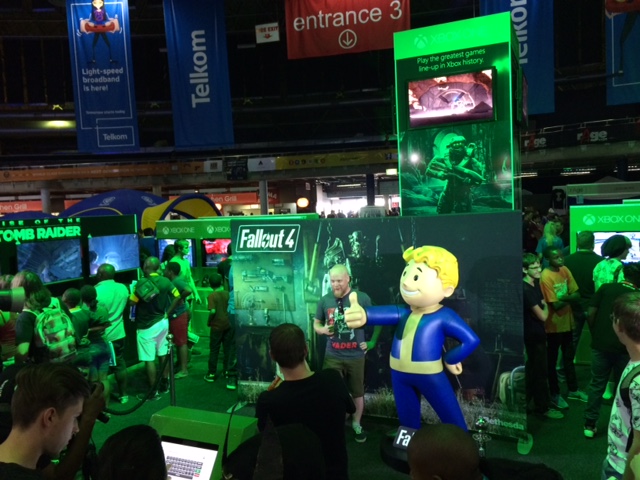 I'm always in two minds about rAge every year. On the one hand, it's a long drive to that giant pizza oven of doom from the East, and not simply to play and see all the things, but to do work. Yes, Gaming Journalists do actually work believe it or not, and rAge is the annual South African event that attracts International faces for interviews. Other random acts of labour often tend to spring up too. It all keeps the rest of the team and I incredibly busy throughout the weekend.
On the other hand though, rAge is the one event where I get to catch up with you, the readers, and many other Twitter friends from around South Africa. This alone, makes me enjoy the weekend immensely. Heck, while running around on the Friday, I bumped into a group of our most dedicated readers. It was so good to finally meet them! The next time Hammersteyn says anything mean to you, or forgets to hand out an upvote, just accept it and walk away… the chap is taller than I am! In fact, all of those readers looked fit enough to snap me in two. Lay off the protein shakes friends!
Oh, and how did the Guitar Hero Live showdown go? We will have a video of sorts up for you tomorrow (I think), but I'll say this: if you were there, I'm sorry you had to witness that technical disaster. Who won? Nobody… we both lost, big time. I don't think I've ever been so humiliated in my life.
rAge Score: 6/10
Alessandro
I've always loved the weekend excursion to the North for rAge, but that excitement has slowly declined in recent years. It's not so much because the expo itself has become worse (I think the opposite in fact), but being more in-tune with the daily ups and downs of the gaming industry leaves very little to surprise on the day. This year's rAge was no exception to that.
Although I have to look at it from a view of the small little Sandy who never used to write about videogames everyday. What if rAge was your annual dose of seeing things for the first time? Getting to go hands-on with some of the latest and greatest titles? In that regard, this year wasn't bad at all. Loads of upcoming games were on the floor to play, such as The Division, Rise of the Tomb Raider and Cuphead. But a lot of the games on show were also ones you could just  buy at any of the stores on hand. Almost in equal measure in fact.
But just like every year, it's the atmosphere that really makes the weekend for me. Seeing so many thousands of smiling faces pouring into a hellishly hot Dome for the love of gaming is truly heartwarming, and a reminder as to why I love this hobby. It was also great to finally meet so many of you, our loyal readers. Truly the best part of the entire rAge experience for me.
Oh, and the local games on show this year were all sublime. The quality just keeps getting better each year.
rAge Score: 7.5/10
Kyle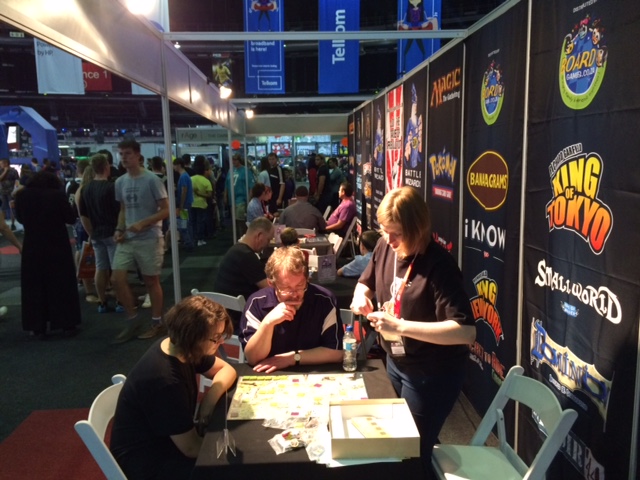 I don't think I stopped moving for more than 10 minutes at this year's rAge. I came in feeling more relaxed, not having to shoutcast or manage a tournament, but instead I was busier than I'd ever been. The melting weather and thousands of sweaty people didn't help either. Usually I'd do a lap and test a game or two, but unfortunately I couldn't. All I wanted to do was test out the Oculus Rift, but couldn't do that either.
Overall my experience at rAge this year was a positive one, mainly because I kept busy and my job was simply to entertain and hand out free goodies to excitable kids.
rAge score: 8/10 Would do it again.
Last Updated: October 12, 2015