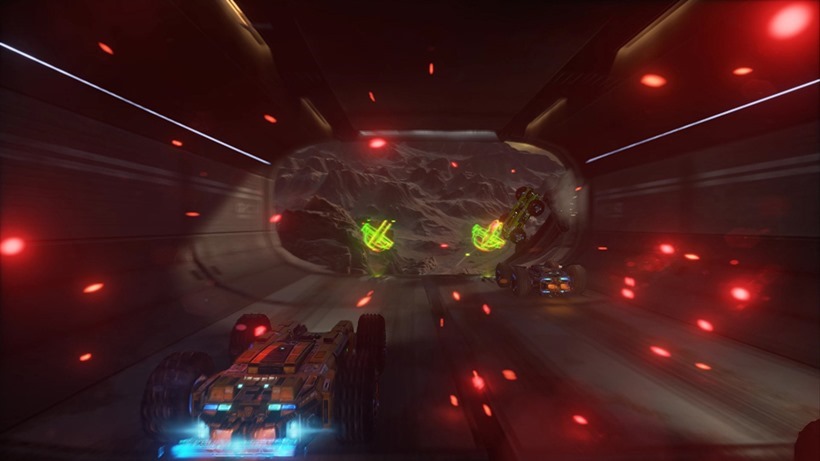 Remember Rollcage? It was a PlayStation 1 racing classic which gave players control of futuristic vehicle so fast that it was capable of riding along walls and ceilings. The very same vehicle just so happened to be double sided too, in the sense that it could be driven with either side up or down.
To make things even more exciting, each track was littered with various power ups. Think Mario Kart, but instead of turtle shells, you have powerful rockets at your disposal! What resulted was a high speed title, packed with flips, gravity defying racing, loud explosions, and many broken friendships.
I poured countless hours into Rollcage as a child, and I honestly miss it. Thankfully, a spiritual successor exists. It's called GRIP, and it's available on Steam today already via Early Access (via VG247):
GRIP is bringing old-school style combat racing back with a bang. Inspired by the Rollcage games and developed by some of the original team, GRIP is a true tribute to the explosive fun had in a past gaming era.
Intense Racing: Hit speeds of up to 700 kmph, driving on floors, ceilings and walls. GRIP's car designs allow for driving on both sides, so flipping the car no longer means game over
Awesome Pick-ups: Use an array of power-ups and weapons to get the edge on your opponents. Ranging from missiles and guns to shields and turbos, we plan to have a wide array of exciting pick-ups to use
Exotic Planets: Race on a variety of planets, from hostile icy worlds to alien jungle to sprawling non-terrestrial cities. Use destruction as a tool to win, crashing your surroundings down on your opponents, or lose your tail by heading through an alternate track route
Badass Rides: Choose from a roster of armoured cars, manufactured by different companies from around the galaxy. Each car has different specs – some swift and agile, others brutish and heavily armoured. There's a killer car for every taste
Bangin' Tunes: Race to a thumping soundtrack from some of the best electronic music artists. Drum n Bass is our main kick
I think GRIP looks effing rad! What about you? Will you be going in now for early access (for only R169)? Or will you be waiting for the official release?
Last Updated: February 3, 2016