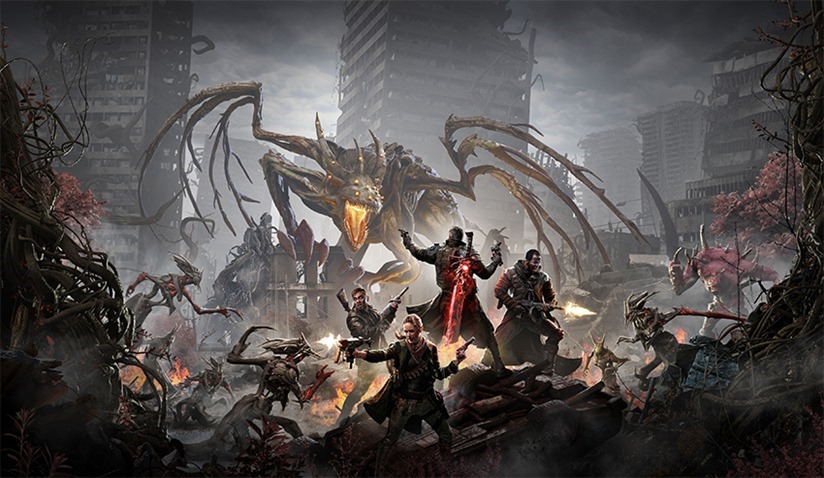 Gunfire games is hard at work bringing the third Darksiders game to life. They've got a little more up their sleeves though, with the reveal of another game they're working on. Remnant: From the Ashes is a new third-person co-operative survival-shooter that's being published by Perfect World entertainment. While it's the sort of game that's been done before, it's refreshing in that it contains no zombies, and no Battle Royale mechanics.
It's set in an alternate (or real!) future where the earth has been overrun by extradimensional beings that very obviously need your bullets in their faces. It's apparently coming to Xbox One, PC and PS4 in 2019.
"Remnant: From the Ashes is about working together to build something bigger than yourself, and that idea is core to our approach to the game," said David Adams, co-founder of Gunfire Games. "Perfect World Entertainment has been supportive of our pursuit to develop a game with a robust co-op experience. The company's live service knowledge coupled with our signature gameplay and world building, enables us to develop an immersive world that we hope players will enjoy solo or together, for years to come."
Take a look:
Here are the key features, in handy bullet-point form.
Fight. Adapt. Overcome. – Each world will present new challenges and perils to overcome. Throughout their journey, players will encounter dozens of monsters unique to each environment. Fight tooth-and-nail against creatures both big and small – from towering behemoths the size of buildings to countless hordes of small, deadly terrors. Adapt… or die trying.
Explore Fantastic, Terrifying Realms – Explore beautiful, dynamically-generated worlds – each with their own unique creatures and environmental challenges. Gain experience and adapt new strategies to survive the dangers of each world.
Craft. Upgrade. Specialize. – Band together with others to improve chances of survival. Protect and befriend skilled tradesmen and offer them the safety of a home base. In turn, they will offer valuable skills and resources for upgrades, crafting and enhancements for weapons and gear.
Strength in Numbers – The Root are ruthless and deadly. To stand a chance, players will need help – they need a Team. In Remnant: From the Ashes, players can group with up to three other survivors. There are multiple hero archetypes to choose from, each designed with unique skills and advantages to help the group survive.
Last Updated: July 13, 2018