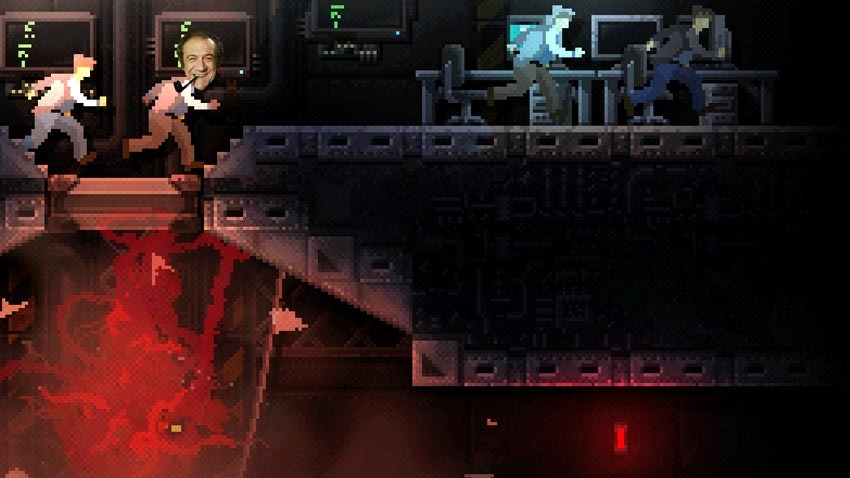 If ever there was a game that had me excited to play as the physical manifestation of my corrupted soul and unrelenting hate, it has to be Carrion. The upcoming game from Devolver Digital shares plenty of its DNA with John Carpenter's iconic Arctic horror flick The Thing, giving you control over an amorphous blob of terror that oozes its way through a secret scientific facility, consuming and destroying anything that it touches.
In case you've forgotten, here's a quick look at the game in action and some flavour text to set the mood from developer Phobia Game Studio:
Carrion is a reverse horror game in which you assume the role of an amorphous creature of unknown origin. Stalk and consume those that imprisoned you to spread fear and panic throughout the facility. Grow and evolve as you tear down this prison and acquire more and more devastating abilities on the path to retribution.
Originally scheduled for a PC release, Carrion is adding Xbox One to its gaping maw of nightmare fuel tentacles. There's no solid release date yet for the game, but Devolver Digital are promising a 2020 release for ye olde PC and Xbox One. It's one of my more anticipated games for the year ahead, a title that combines 2D stage design from a bygone era and deliciously devilish role reversal gameplay by the sound of things.
It's basically the sequel to The Ooze that I've been waiting for, ever since I jammed that game on my SEGA Megadrive many moons ago and delighted in controlling a puddle of homicidal Mountain Dew in its quest to be restored back to its original human form. Only this time, there's no morality to get in my way. Son, I am excite.
Last Updated: November 12, 2019