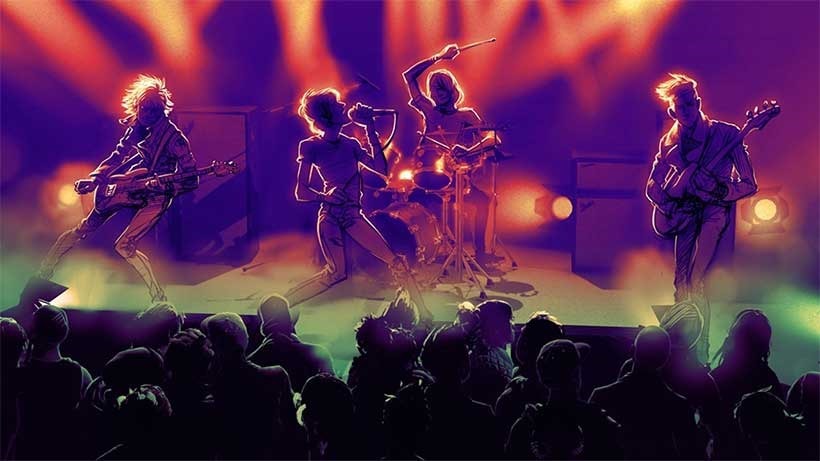 I think it's time to pour one out for fake plastic instruments and the games that have been built around them. Despite critical acclaim, neither Guitar Hero Live nor Rock Band 4 have managed to capture the imaginations of this generation's gamers. Both new entries in to the long-standing music rhythm games have done okay, but I don't think we'll be seeing sequels to them for years to come.
We'll certainly not be seeing Rockband 4 on the PC. Harmonix' crowdfunding push to get the music game on to PC has failed, and the game's PC port has been cancelled – at least for now.
The project raised $792,817 of its $1,500,000 goal, so that's pretty much the end of it. In an update on crowdfunding platform Fig, Harmonix has figured that Rock Band on PC isn't a viable project.
"How do we feel about the end of the campaign? Disappointed, obviously. There's no shortage of people at Harmonix who love Rock Band, and some of us got extra excited at the prospect of bringing back RBN, and even more about getting the chance to expose RB to a brand new audience.

But at the same time we learned exactly what we needed to learn: there doesn't seem to be enough of an audience to make Rock Band for PC a viable project for us right now. We're committed to supporting and improving RB4 on consoles. To be clear, we raised nearly $800,000 via backers and investors; it's an impressive showing of support from our community and for our brand. But as an independent developer we have to be careful about how much money and development time we risk on a project we're not sure has a big enough audience, and crowdfunding allowed us to (among other things)* judge the market fit for Rock Band PC."
There are probably all manner of reasons for the failure. For starters, many consumers feel that Rock Band 4 as it exists on consoles right now is barely finished. Those people feel it's probably a bit of a cheek to ask for money for a different version before that one's done and working properly.
There's also the amount of money that's being asked for. For many, $1.5M for a port of an existing game seems ridiculous.
Whatever the reason, the end of it is that Rock Band 4 probably isn't coming to PC – and it very possibly signals the end (again!) of fake plastic instrument music genre.
Last Updated: January 4, 2017