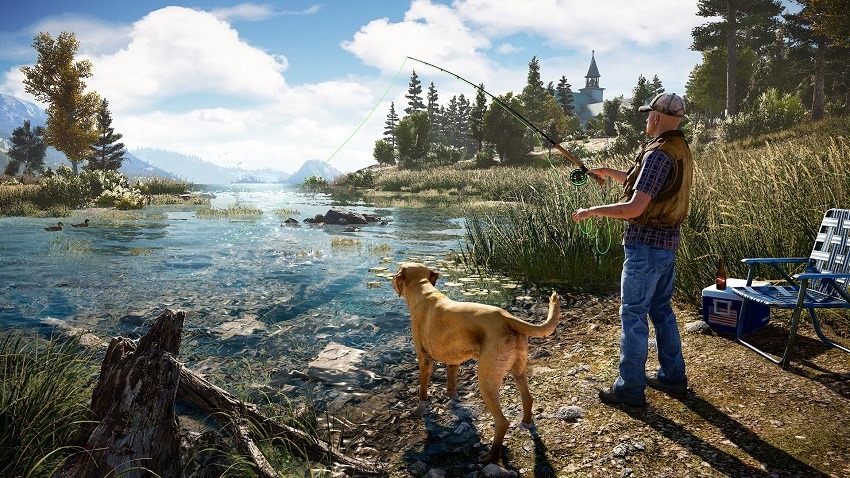 The only thing better than having your canine buddy fetch M4 rifles for you in Far Cry 5 is having a friend along to see your reaction when he does. Far Cry 5 is all about killing religious, militant zealots, but it wouldn't be that much of a whacky, explosive adventure without the chance to bring someone along for the ride. Co-operative play is a big feature for the Ubisoft developed sequel, but there might be a little niggle with the way in which it tracks progress.
Unlike Far Cry 4, the fifth instalment is allowing you to play the entire campaign with a friend in tow. Presumably this would mean dropping in and out of each other's games, with progress saved between each instance that you then take on over to your single-player game. Turns out that might not be the case, with Gamestar (via ShackNews) reporting that only the first player will have their quests and hunter-gatherer progress saved when the session ends.
That's peculiar, but makes sense in certain situations. A co-operative session where, for example, both players are tackling story missions that only one of them has really worked towards makes a good argument for progress reverting in single-player. Since the interview in question was translated from German there's room for some missing information. Especially that which might pertain to questions around weapons, gear and resources making the jump from online to offline.
At worst, it means that you probably shouldn't get too attached to your progress if you're constantly going to be hopping online with a friend. But if you're doing that enough then you're surely subscribed to running the entire game through together anyway. Until Ubisoft clarifies things a bit, that's the scenario you might have to deal with.
Last Updated: July 4, 2017