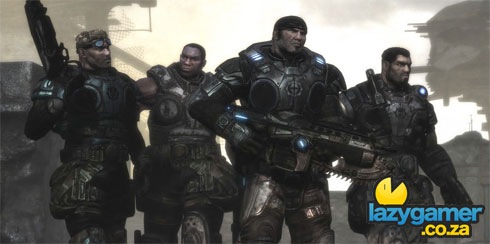 Update: CliffyB has confirmed via Twitter that Gears of War 3 will feature "4 player integrated story co op in the campaign" via Twitter.
Orange-bearded Gears of War Producer has apparently confirmed that the final chapter in the Gears of War trilogy, due next year April, will include 4 player co-op. He apparently divulged the information on IRC, an outmoded method of internet communication that I'm surprised people still use.
Aside from the multiplayer – which was, in my opinion,  rubbish in Gears 2 – the co-op has always been the game's most attractive feature, and people have been pretty much begging Epic for 4 player since the release of the first game.
"Rod confirmed four-player co-op in the Gears IRC, with four unique characters," said a post on the official Epic forums, which has consolidated all the information about the game that we know thus far. "Rod confirmed that co-op includes Marcus, Dom, Cole, Baird and a 'variety of other characters'."
What do you think? Is the addition of 2 extra co-op players going to make the game better, or will it ruin the game like the addition of a 5th person to each multiplayer team has?
Gears of War 3 has a confirmed release date of April 5, 2011 in North America and Asia, April 7 in Japan, and April 8 in Europe and the rest of the world.
Source : Epic forums
Last Updated: April 13, 2010