One thing I'm enjoying about Pokémon Sword and Shield's pre-release marketing push lately? How familiar generation one faces are getting a very British tune-up. We've already seen two of those classic 'mons get some updated regional love so far: Galar region Weezing looks like it'll scoff to the max when the orphans at its coal mine complain about getting the black lung, while Sirfetch'd is the classiest and most chivalrous redesign of all time.
Here's another Pokémon that you can add to the list: Mr Mime! Originally nightmare fuel that combined psychic powers with the pure terror of silent clowning, Mr Mime has never been high on anyone's list of desired Pokémon. Sure, he usually boasts a superb defense but unless you're looking to complete a pokedex then the Marcel Marceau-inspired Pokémon is usually only good for a spot of quick breeding so that you can complete a Pokedex.
In Pokémon Sword and Shield, he's getting a side-evolution of sorts. Say hello, to Mr Rime: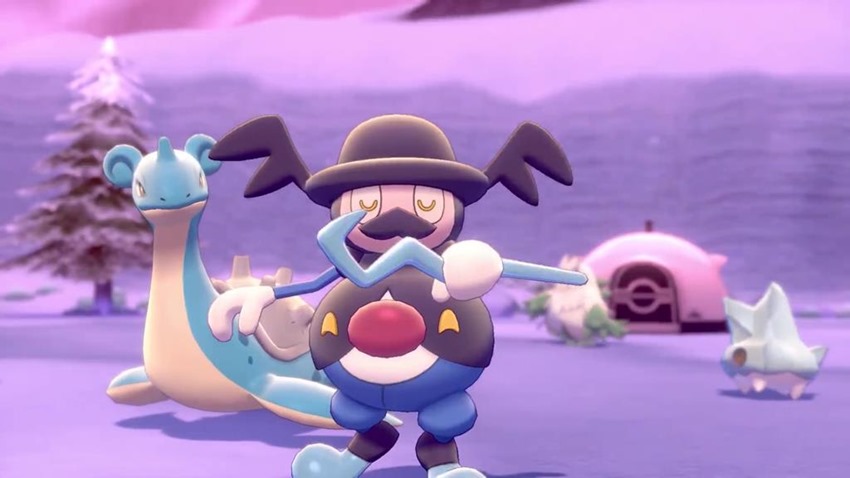 The new look comes courtesy of the latest trailer, which gives the pale-faced menace a fancy top hat, a stylish cane and a dapper moustache. MOUSTACHE! The rest of the design still has some clownish horror within it, thanks to Mr Rime's jovial belly having some circus aesthetics to it but honestly I love this look. These forms have been nothing short of fun, whimsical updates that make the most of the regional influence for this Pokémon game and a fantastic way to breath new life into classic and forgotten pocket monsters.
There are a bunch of other regional forms coming that have yet to be revealed in Pokémon Sword and Shield, and if you can resist temptation long enough then you'll be able to see them for yourself come Friday when the game is finally out in the wild.
Last Updated: November 12, 2019