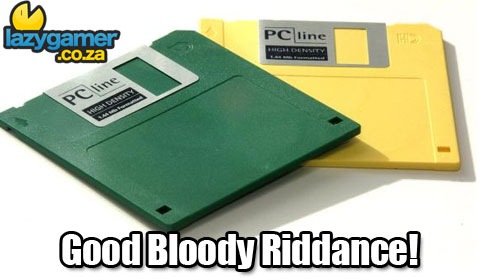 In 1981, Sony gave the world the 3.5" floppy disk. For better or worse, it became the de facto standard for moving data between PC's for nearly 2 decades.
Next year – 30 years later, Sony will finally cease production of these relics of storage media.
Why am I posting this farewell on a gaming site?  While I certainly won't miss the bloody things – a meagre 1.44mb storage space and awfully unreliable – I was given access to some of my favourite childhood games through this medium. Notables include Day of the Tentacle, Sam & Max, Doom,  X-wing, TIE Fighter and Wing Commander and many, many others. Ridiculously easy to copy, they were used for widespread PC game piracy – something that may have actually contributed to gaming becoming  so promulgated.
Thanks to early Pc game pirates, we have this :
Floppy discs have also caused me one of the most frustrating experiences any gamer can have. finally reaching disc 32 of a 33 disc install, only to be confronted with:
>Data error reading Drive B:
>Abort, Retry, Fail? _
While some people in IT doing RAID installations and motherboard firmware upgrades may still need them, the rest of us are finally able to say goodbye to the format. What then are your fondest – and worst memories of the things?
[Image courtesy of
Steven Debardelaben
]
Last Updated: April 28, 2010