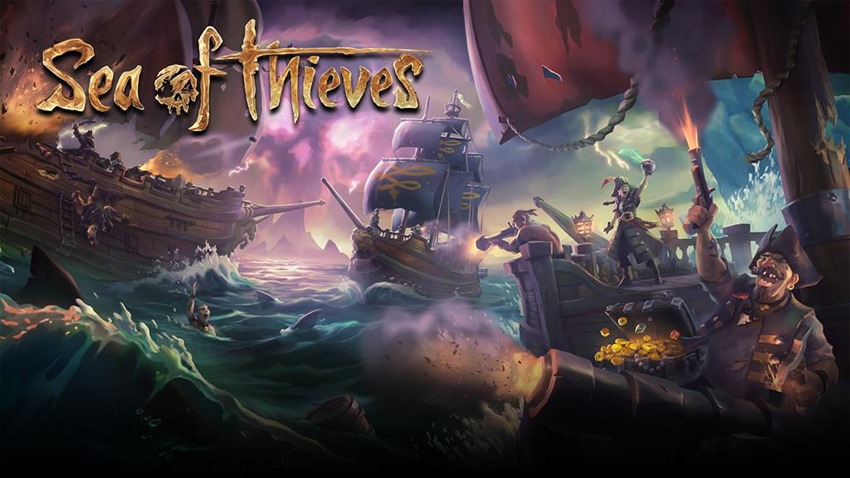 The poop deck. In nautical terms, it's "the aftermost and highest deck of a ship, especially in a sailing ship where it typically forms the roof of a cabin in the stern". In juvenile terms, it's a section of the ship that has a crew giggling whenever its mentioned. It's also an indicator of the atmosphere in developer Rare's Sea of Thieves, a swashbuckling journey across the sea that involves punching sharks, locking swords with skeletal ghouls and acquiring some sweet booty.
And it's great! With a few weeks to go until launch, Sea of Thieves feels far more complete in its current model than it did in previous alphas when it was announced years ago. It's a game that relies on teamwork (Grog help anyone on the same crew as Kervyn, Al, Geoff and myself), its biggest strength and weakness. A weakness because finding a regular crew of friends to join you on any night of the week is a Herculean challenge in this day and age, but a positive indicator to the social nature of Sea of Thieves.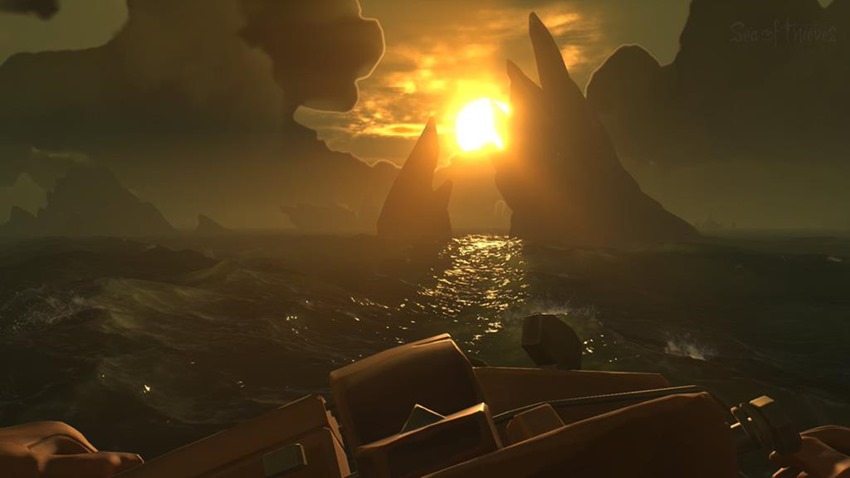 You want to sail the ocean and get some treasure? You're going to need a team of rapscallions to hoist the anchor, unfurl the sails and NOT CRASH INTO THE DAMN ISLAND KERVYN. Sailing is easy enough once everyone knows their role and manages to avoid spending a session with a tankard of grog that results in them swabbing the deck with puke.
But it's this comedy of errors that makes Sea of Thieves a fun experience. Of learning the ropes, teaming up to chart a course and finding yourselves surrounded by the bastard sons of Jaws as they look to chow down on you. It's that moment when you're hurriedly scooping water out of a quickly-sinking ship and patching up any damage that highlights the real charm of what Rare has created.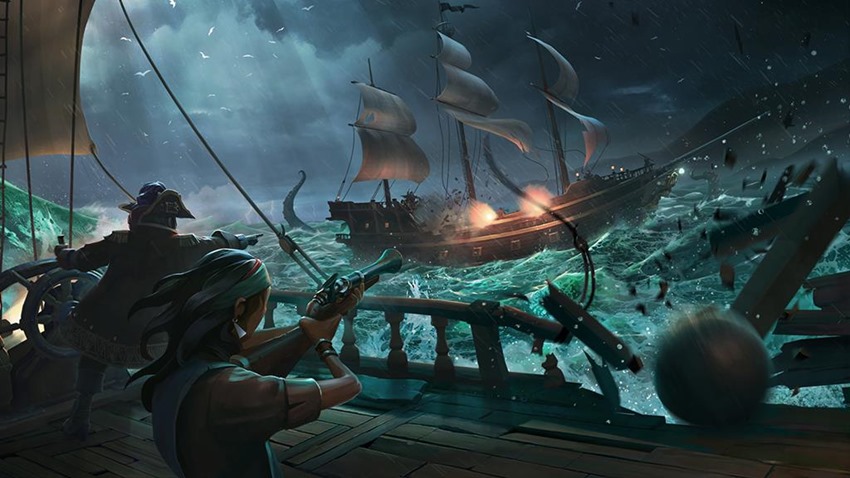 It's utterly bonkers stuff as well. You can pull up close enough to an island and shortcut your way to dry land by stuffing yourself into a cannon and firing, you can compose a jaunty melody with your crew or you can spend time on what might be the Flying Dutchman as you wait for your body to un-keelhaul itself after meeting a grisly end.
Sea of Thieves is oddly simple, even organic perhaps, in its core gameplay grind of sailing, fighting and looting. Every failure is an adventure, every swing of the sword is a lesson learnt. Its core controls can be clunky at times, bordering on cartoonish movement throughout the seven seas but I'd imagine that that's a deliberate design decision.
Overall, it's fun! Some more tweaking before launch on certain systems wouldn't be a bad idea here, but Rare has something special on their hands provided that you're able to regularly meet up with a band of your closest and scurviest pals. Beyond that, there's something else to admire: The ocean itself.
Sea of Thieves has the most gorgeous ocean I've ever sailed on, rolling waves of turbulent water that'll leave your frigate rocking and rolling with the flow of the tide. You might want to chew on some ginger for that, as motion sickness is apparently a common occurrence for many a sailor. In a year where Xbox needs to prove that it has not only the right exclusives to promote its console family, but also the guts to try something more unique, Sea of Thieves feels like that beautifully idiotic dream realised.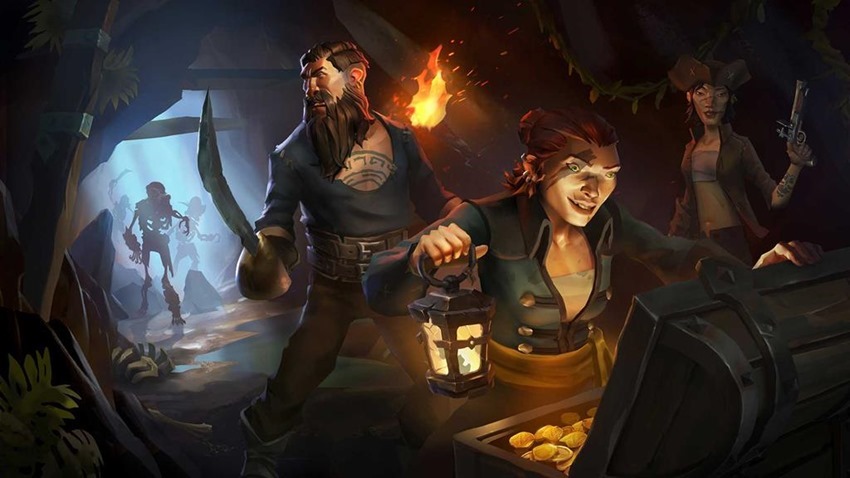 Last Updated: January 29, 2018