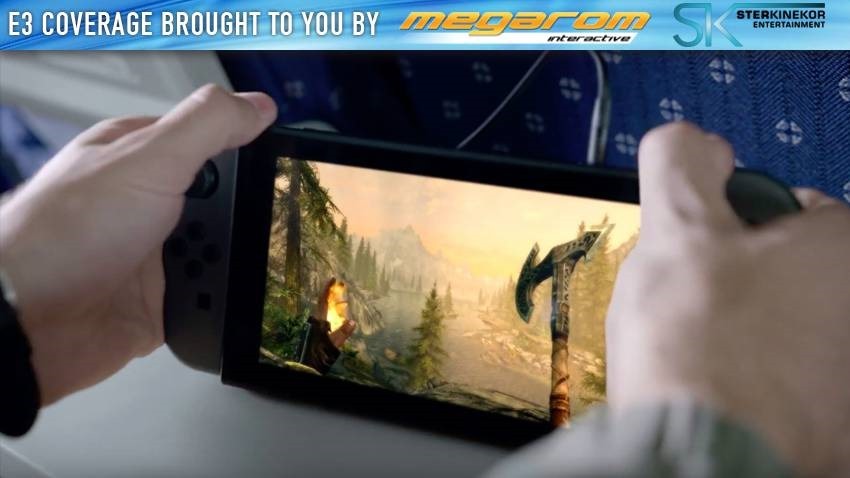 We knew that The Elder Scrolls V: Skyrim was coming to the Nintendo Switch – but what reason might there be to play the game again, other than that it's on the go. In its E3 presentation, Bethesda gave Zelda fans a valid reason. By using a Legend of Zelda Amiibo, players can unlock what seems like full The Legend of Zelda Gear – including Link's blue Breath of the Wild Tunic, and a Master Sword.
The game also features motion controls, utilising the left and right Joy-Cons as separate hands. Players can use one as a shield and one as a sword, as an example – or use motion controls for Bow and Arrow operation.
Skyrim reimagines the open-world fantasy epic, pushing the gameplay and technology of a virtual world to new heights.
Live another life, in another world.
Play any type of character you can imagine, and do whatever you want; the legendary freedom of choice, storytelling, and adventure of The Elder Scrolls is realized like never before.
Stunning Graphics and Immersive Gameplay
Skyrim's game engine brings to life a complete virtual world with rolling clouds, rugged mountains, bustling cities, lush fields, and ancient dungeons.
Choose from hundreds of weapons, spells, and abilities. The new character system allows you to play any way you want and define yourself through your actions.
Battle ancient dragons like you've never seen. As Dragonborn, learn their secrets and harness their power for yourself.
Need more E3 in your life?
Check out our E3 2017 portal powered by Megarom Games and PlayStation
Last Updated: June 12, 2017