Here's some exciting news for a Monday morning, according to the news page on Meiselman, Denlea, Packman (lol), Carton and Eberz Sony have been forced by a court of law to refund all requested PS3 refunds (50% of the purchase price) due to their removal of the "Other-Os" function on the original PS3 range.
This represents the law firms biggest win and a loss so huge for Sony that it may infact have to put the PlayStation division into administration to save the rest of the company.
But before you anti-Sony fans rejoice let's check the wording out just a little bit more.
"We hope that we've done the PS3 owners a service. We are very glad as this is once of the biggest victory's in our firm's history. "
That's not the best use of English now is it and then they go onto say
"Sony will also be at handing out refunds at "E3", a large video-gaming event, to all registered PS3 owners."
Damn… so only media and retailers are able to get their discounts, this could be a major windfall for people like BT Games and Kalahari… but I am thinking it's more likely a case of the website being hacked.
Sony has repeatedly defended their position and I highly doubt a ruling (which the website didn't detail at all) like this would go un-appealed meaning that if you think this is going to happen in this generation then you are sadly mistaken.
Source: MDPCELaw.com
PS: Still giggling about the lawyer being called Packman… oh and here's a screen scrape for future use when the lawyers do decide to remove this fake news.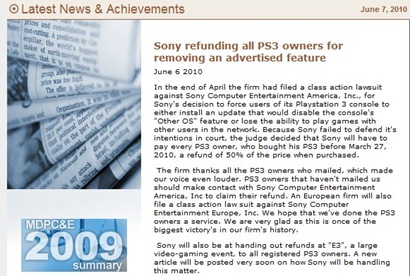 Last Updated: June 7, 2010