The Orena Overwatch Champions Ladder is nearing the end of Season 1. Four teams will move on to the elimination phase of the tournament where they will battle it out for R10 000. The inaugural tournament marks the competitive start for local Overwatch. Already, it's set apart four teams who have moved their way up the ladder, showing their dominance at every turn. While games are still to be played amongst the current top four, it is clear that these teams slowly emerging as South Africa's best Overwatch teams.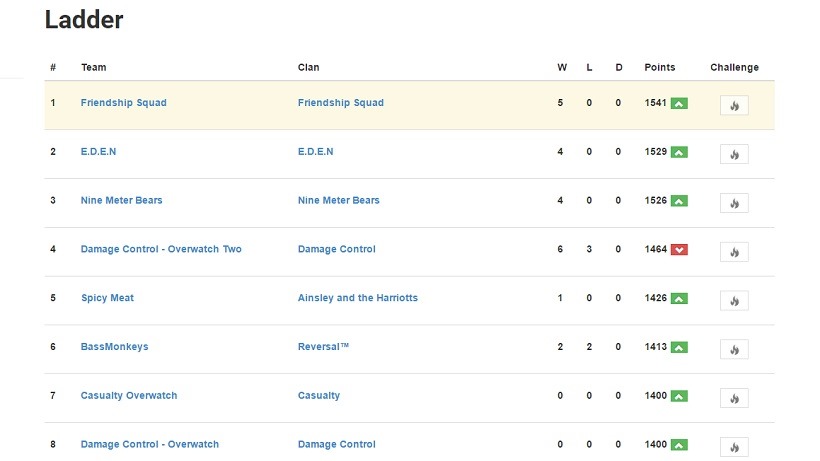 You may not know much about them, so let's take a look and see.
The Friendship Squad
What started as a group of friends playing together, the Friendship Squad has shown promise not dropping a single match in the Orena Ladder. The team is comprised of eSports veterans who have been in the competitive scene for years. Leading the team is Sakkie "RandomHero" Basson, who is joined by top CS:GO player Trevor "Kanibalistic" Morely, and ex-Bravado Heroes of the Storm champions Garrion "Gray" Wade and Duncan "Skiblet" Frickel.
While Friendship Squad have not played E.D.E.N or Nine Meter Bears, they've definitely left their mark on the South African Overwatch scene.
E.D.E.N
Arguably the strongest team in South African Overwatch, E.D.E.N are comprised of a number of top eSports players as well. Ruan "Senticall" Potgieter is one of South Africa's best League of Legends players, joined by his fellow Energy eSports teammate Marthinus "CarNage" Strydom. A few familiar names, such as Gregory "NakedMoleRat" Wishart, also form the core of E.D.E.N and the "League of Legends Overwatch" team are rightfully the top team in South Africa.
As with Friendship Squad, E.D.E.N have not played Nine Meter Bears who have also taken the Overwatch community by storm.
Nine Meter Bears
The predominately Port Elizabeth based team were founded on the same basis as Friendship Squad, making the two teams hard proof that friendship always wins. While most of the players remain unknown, the Bears have shown promise not dropping a single match in the Orena Ladder. One player may ring a bell, Stuart "Disappoint" Pearson who has competed at the highest level in Dota 2, as well being part of the Bravado team who won the only Heroes of the Storm championship last year.
Nine Meter Bears have yet to face E.D.E.N and Friendship Squad, but I fear these teams are holding out until the playoffs.
Damage Control
Damage Control have probably the most impressive roster within the top teams of Overwatch in South Africa. It's unfortunate that the core roster cannot always compete due to other commitments, but if you're a fan of South African FPS, you'll definitely recognize some of these names.
Alastair "Lag_Beast" Bearman (ex-cs)
David "pacman" Harrison (ex-cs_
Paul "Turbz" Van de Haar (ex-Brazen TF2)
Richard "deviant" Groves (Aperture Gaming CS:GO)
Riaan "stYle" Van Niekerk (Damage Control CS:GO)
Jannie "Hellhound" Van Nikerk (Damage Control CS:GO)
Richard "Demonik" Sjoberg (ex-Dota 2)
Damage Control have been the most active team on the ladder challenging most of the top teams. They've lost to E.D.E.N and Friendship Squad, but still retain their top four seed as one of the strongest teams in South Africa.
It's clear that South Africa is growing in terms of Overwatch, and with the playoffs looming we can only expect an incredibly finish between these four teams.
In the meantime, here's a video from last night's games between Damage Control and Friendship Squad.
Last Updated: July 11, 2016