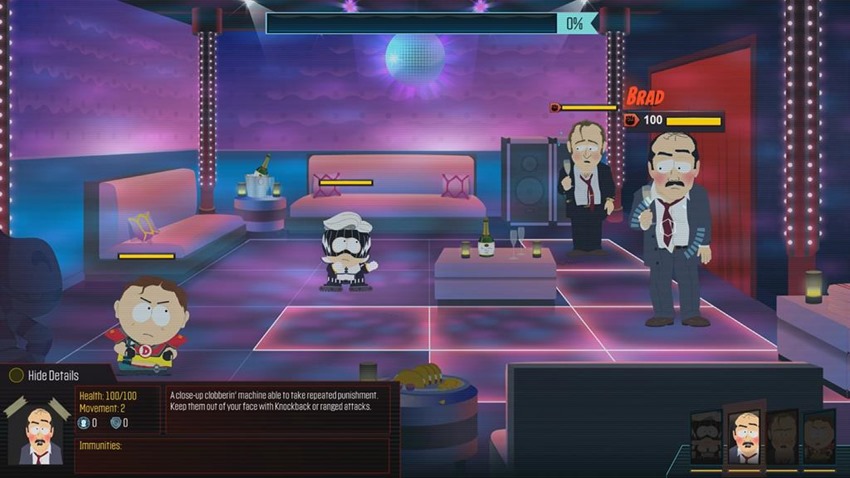 By Paul Davies
No doubt about it, South Park: The Fractured But Whole makes South Park: The Stick of Truth look like a training ground for Trey Parker and Matt Stone's latest videogame foray. With a personalised protagonist in the lead role as Cartman takes the role of superhero ringleader and tutor, this feels like a fully-fledged RPG with a sharp satirical edge.
A casual glance might tell you that The Fractured But Whole is probably more of the same, and possibly you would be fine with that. The Stick of Truth surprised almost everyone by nailing a series of well-worn gaming tropes square on the head, most of them RPG-related.
However, the follow-up sees South Park Digital Studios and Ubisoft expand the interactive world and fill it with a wider range of RPG-style activities, while still poking fun. There's an extensive character customisation suite for starters, day and night cycle, three unique hero classes to consider, crafting and a reputation to uphold. It's all structured to support the narrative of a novice superhero under the dubious guidance of Cartman, aka the fearless crime fighting Coon. And this is where you come in.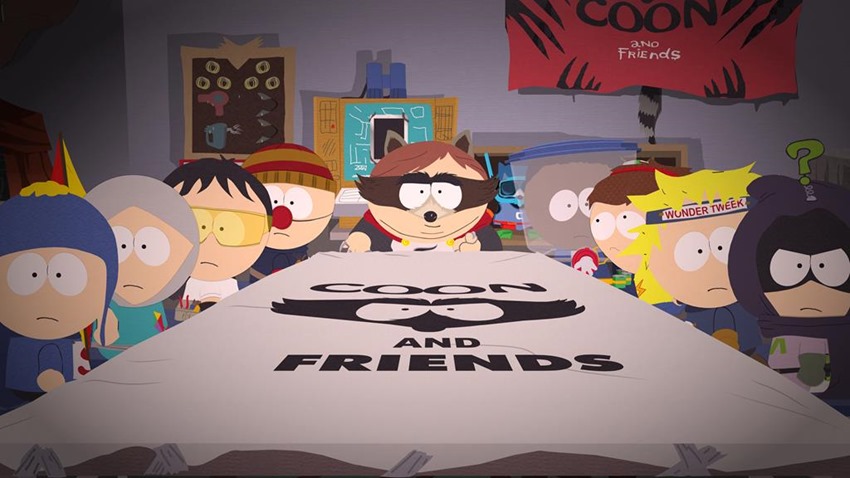 While serving as the Coon's latest protégé, the tutorial element of The Fractured But Whole kicks in. Players get to choose between between three combat classes: Speeder, Blaster and Brutalist; agility, range or melee respectively. Initial missions focus solely on finding your feet as South Park's newest super hero, taking selfies to boost popularity while familiarising yourself with the neighbourhood. Like many RPGs, you spend time rummaging through cupboards, dressers and drawers to amass crazy amounts of what seems like crap.
What's impressive is how The Fractured But Whole locks everything so neatly to its boosted, more overtly RPG structure, right down to how your guy manages his life via numerous apps on the smartphone. The game finds cool ways to twist familiar ideas from the real world and meld them with gameplay features, such as the Fidget Spinner that serves as a performance enhancing artefact. It rewards exploration and experimentation with an ever-evolving hero that reflects playstyle, avoiding the monotony that might otherwise creep into the combat.
Turn-based brawls served South Park style are never likely to be boring, of course, but to further enhance their potential there are allies to recruit, each one bringing unique talents to the fray. Super Craig, Human Kite (Kyle), Mosquito (Clyde) and Fastpass (Jimmy) bring more tactical options to take down Sixth Graders and members of the Raisins gang. Human Kite, for example, can place a protective shield over a buddy, while Fastpass speedily intervenes.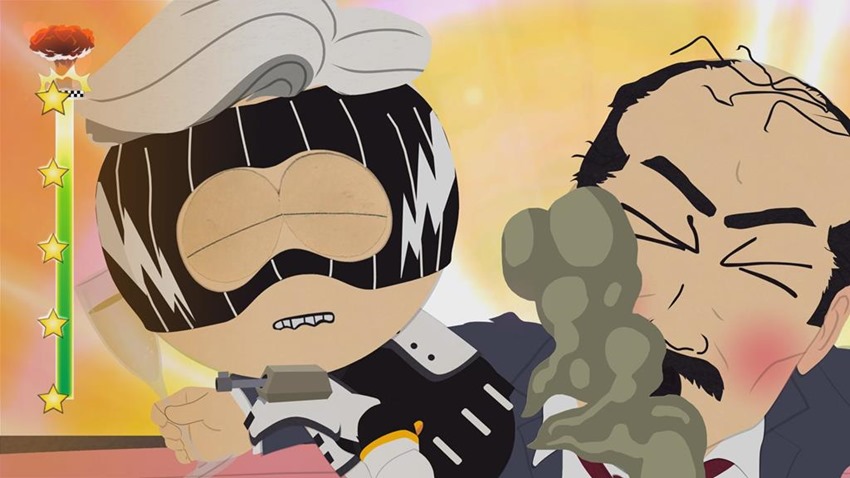 Throughout roughly four hours' hands-on time, almost everything we encountered served a purpose. There are ongoing puzzles, in the form of story quests, that require certain items to make progress, or to revisit specifically in the night time. You'll gain gizmos and abilities that enable access to previously walled-off locations. Any time that you're walking the streets in danger of feeling bored, you can always fart to annoy the NPCs (well, we did).
We only briefly touched on the new crafting system, hilariously introduced by Morgan Freeman at 'Freeman's Tacos', but at least we found the purpose for all those random collectables. An enchilada combined with a burrito becomes an enchirito according to Freeman. Other recipes are promised to have greater potential when applied for battle.
Obviously, we were impressed by our first encounter with The Fractured But Whole. This confidence is underlined by the polished production, during which even the loading screens can make you laugh. Tips include: "If you're having trouble in combat, try getting better at the game" and "Never fart on someone's balls". Apparently, there are people that have never seen a South Park episode, but even those guys should get a heap of laughs out of The Fractured But Whole.
Bring on October.
Last Updated: September 8, 2017