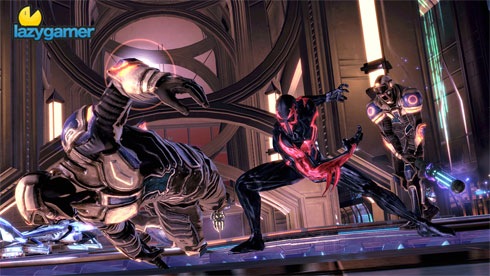 Screenshots have magicked their way on to the internet, apparently confirming the appearance of Spiderman 2099 in the new Spiderman : Shattered Dimensions. It all looks pretty damned fantastic at the moment, and there's much hope that this will be the Arkham Asylum of Spider-Man games.
If these are true, it'll no doubt bring much glee to fans of the 2099 Universe. Activision's official site for the game still only shows the 2 previously revealed versions of spider-Man; The classic Amazing Spider-Man and the stealthy Spider-Man Noir. With 3 of the 4 dimensional Spider-Men revealed, speculation abounds as to the fourth. Which Spider-Man do you want?
Me? I'm hoping against hope that it's Italian Spider-Man. Clueless? Hit the jump for just about the best video you'll see all week.
You can see more Spiderman 2099 over at AllGamesBeta
Last Updated: June 4, 2010