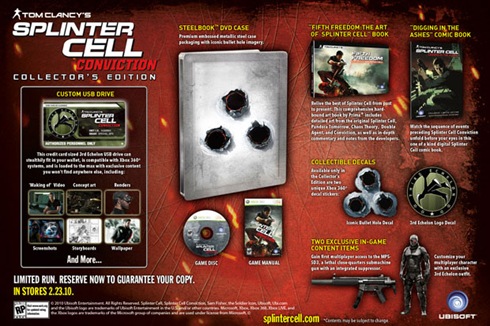 Here's a shocker! A new game in a popular franchise from a large publisher getting a Limited Edition? No Way! Anyway, The much-anticipated Xbox 360 exclusive will be available on 23 February next year, and released alongside the regular version of the game will be a "very limited" Collector's Edition.
The Splinter Cell : Conviction CE is absolutely packed with both digital and real life treats, details of which you can find after the jump.
In The CE You'll find
A credit card-sized 3rd Echelon USB drive filled with a bunch of Splinter Cell media
A hard-bound copy of "Fifth Freedom: The Art of Splinter Cell"
Two in-game items: the MP5-SD3 submachine gun and a 3rd Echelon outfit for multiplayer
"3rd Echelon Logo" and "Iconic Bullet Hole" decals
The "Digging in the Ashes" comic book
A Metallic steel DVD-case
We've spoken to the local distributors to see if it'll be available on our shores, but they're unable to confirm at the moment. Once they know, we'll know – and once we know, you'll know. Thankfully with the game being published by Ubisoft as opposed Microsoft, we'll actually get the promised extras – should we get it at all.
Last Updated: November 4, 2009