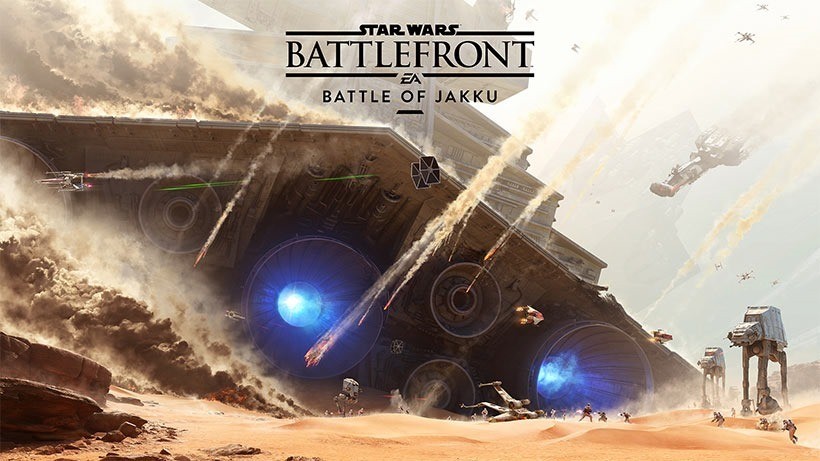 Star Wars: Battlefront is a bit of light, almost fun – and it certainly can be fun; especially if you're cycling through its modes. It's not particularly deep, it's not especially complex, and its lacking a few modes and maps that would elevate its longevity. And it's getting more of both, soon.
Next week, those who pre-ordered the game will be given access to a brand new map, and a brand new mode.
"The Battle of Jakku", says EA "was the pivotal moment when the New Republic confronted key Imperial holdouts on a remote desert planet.
Taking place in the aftermath of the Rebel victory in the Battle of Endor, players will experience the events that created the massive, battle-scarred landscape of Jakku shown in Star Wars: The Force Awakens™."
It's a sort of prequel map that ties in to the impending, eagerly anticipated Star Wars: The Force Awakens. For a week, it'll be exclusively available to those who pre-purchased Battlefront – and will roll out to everyone else afterwards. Yes, for free.
More interestingly, I think, is the inclusion of a brand new mode to play in, for those who're already starting to tire of the ones already available. Called Turning Point, the 40-player mode has Rebels trying to capture 3 control points, unlocking bits of the map and moving in to Imperial lines – with the ultimate goal of infiltrating the Empire's make-shift base for a final stand. You'll be able to do so using AT-STs and Airspeeders.
"We wanted to portray a battle completely surrounding you, in every direction," says Dice artist David Grandert. "Debris is falling from the sky, telling the story of battles above. On the surface of the planet you can see ground troops as well as X-wings, all taking part of the fight."
For those entrenched Star Wars funs, this is likely exciting stuff – giving them a look at Jakku 29 years before its canonical appearance in the upcoming film.
Last Updated: November 25, 2015