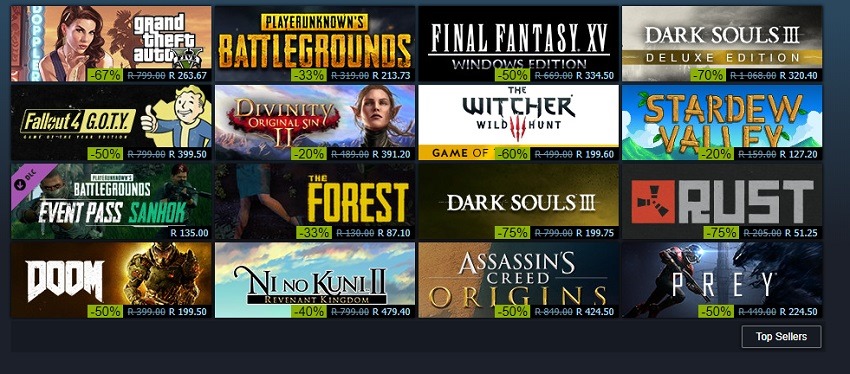 Apparently it's summer, but I wouldn't know because the frigid air outside has made my nipples so damn hard that Wakanda is busy demanding that I return the two stolen ounces of Vibranium back to them. If you're in the northern hemisphere right now, you're probably enjoying the glory of the best season of the year: Warm rays of sunlight, wonderfully sweltering afternoons and a valid excuse to wear short shorts outside.
I hate you all for having what I don't have. There is one other way to celebrate the other side of the globe's festival season, and that's by living vicariously through the Steam Summer Sale. Because what better way is there to appreciate the warmest quarter of the year, than by staying inside and playing video games.
Much like last year, Steam has a new summer game added to its sale in the form of "fight the duldrumz". This little event earns you some trading cards, which of course can be used in the larger scheme of things to earn a discount on future releases when the digital assets are broken down. As for the actual sale? There's a few gems this year! Here's a quick list of games which might tickle your fancy, because who needs to spend money on stuff like food and medical aids.
Fallout 4 – R199.50
Assassin's Creed Origins – R424.50
Cuphead – R175.20
Dark Souls III – R199.75
Darkest Dungeon – R80.70
Darksiders Franchise Pack – R73.35
Deus Ex: Mankind Divided – R37.35
Dead Cells – R128.99
DiRT 4 – R147.25
Divinity: Original Sin Enhanced Edition – R122.70
DOOM – R199.50
Dying Light: The Following Enhanced Edition – R230.98
Elite Dangerous – R189
Final Fantasy XV – R334.50
Grand Theft Auto V – R263.67
Grim Dawn –  R80.70
Hellblade: Senua's Sacrifice – R191.40
HELLDIVERS – R149.50
Just Cause 3 – R37.35
Life is Strange: Before the Storm – R91.50
Middle-earth: Shadow of War– R315.86
Ni no Kuni II: Revenant Kingdom – R479.40
Nioh: Complete Edition – R161.40
Ori and the Blind Forest: Definitive Edition – R110.25
Pillars of Eternity– R105
Prey – R224.50
Project CARS 2 – R319.60
Quantum Break – R102.25
Resident Evil 7 – R304.85
Rise of the Tomb Raider: 20 Year Celebration – R209.70
Sid Meier's Civilization VI – R359.60
SOMA – R63.80
South Park: The Fractured But Whole – R280.17
SteamWorld Dig 2 – R146.73
Stellaris – R163.60
The Evil Within 2 – R319.60
This War of Mine – R41.70
Torment: Tides of Numenera  – R197.67
Vanquish  – R74.46
Watch_Dogs 2  – R280.17
Wolfenstein II: The New Colossus – R319.60
Just Cause 3 for under forty of your Randelas? Why, that's like a cent per explosion…in the first hour. So what are you planning to play? Or more accurately, what are you planning to add to your ever-growing backlog?
Last Updated: June 22, 2018