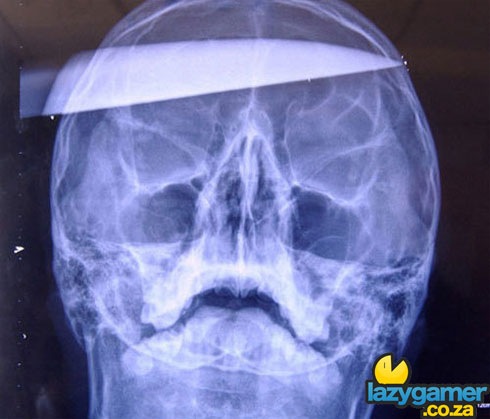 Cheaters never prosper folks, and that's been highlighted when a Chinese counter-strike player suspected of wallhacking became the unfortunate recipient of a 30cm knife to the head from an angry assailant.
Wallhacking allows players to see through walls, allowing you to see your enemies before they see you – giving cheaters an obvious advantage. Too bad his hacks couldn't let him to pre-emptively see his knife-wielding attacker.
A fight broke out at an internet cafe in the Jilin province of northern china when a group of youths noticed that  one of the boys they were playing with was using the aforementioned cheats. The Chinese apparently take cheating quite seriously indeed, because one of the lads decided to do a bit of hacking of his own, plunging a foot-long rusty knife in to the head of the accused cheater.
The blade was driven in to the side of the unfortunate cheater's head – and the only thing stopping the tip of the blade it from peeking through the other side was the other side of his skull. I think he may have been using HP cheats too – because the still-conscious lad was rushed to hospital to have the offending kitchen utensil removed. He is apprently alive and stable – with the blade having missed major arteries. Lucky.
China already has draconian gaming policies, and this may exacerbate the stance that the government has with regards to videogames and related violence. I'm not sure they're on the right track here though. I think this may be the beginning of studied linking violence with the consumption of rice.
Source : Sankaku Complex
Last Updated: March 23, 2010