The Nintendo Switch is a great console, and even more impressive when you consider the types of games it's allowing you to take on the go. Something like The Legend of Zelda: Breath of the Wild, with it's gorgeous open-world and massive expanse to explore simply sells the idea of AAA experiences away from home. The Switch's battery, unfortunately, is the real roadblock in that dream. But it's exactly what the SwitchCharge is aiming to fix.
It was eventually going to happen, but new company InDemand Design have launched an Indiegogo campaign for what they're claiming will fix the Switch's achilles heel. The SwitchCharge is a battery case that clips onto your Switch, giving you 12000 mAh of juice to keep your games running. The company is claiming that their battery (supposedly specifically designed for the Switch) can keep the console running for up to 12 additional hours. Given that the current Switch battery is just 4300 mAh, that sort of rough maths checks out.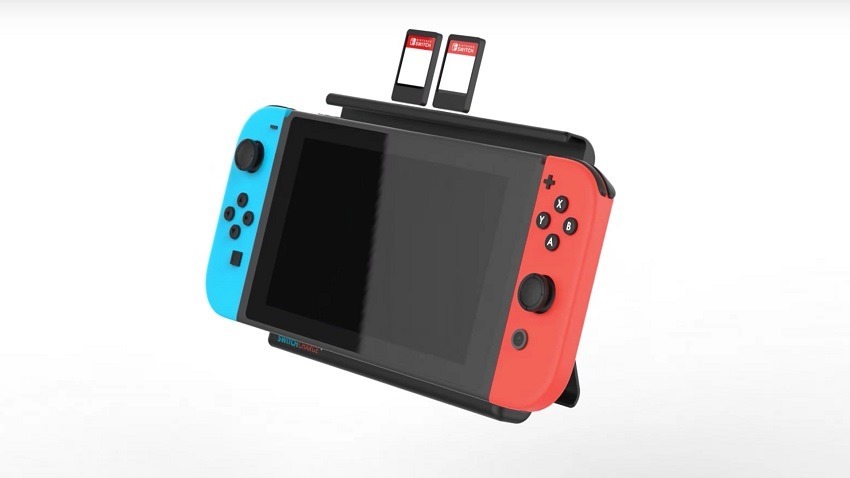 The case itself looks surprisingly slimmer than I would've expected from a product like this. It raises up and latches onto the back of the Switch, redirecting ports to the side of the device to allow for easier charging. The case also comes with a new kickstand to replace the flimsy one on the Switch, which will also allow you to play your device portably at different angles. There's even space for two Switch cartridges, if you're feeling like a snack on the go (no stop eating them).
The SwitchCharge isn't going to be cheap though. Currently you can snag an Early Bird order from the fundraising campaign, which will set you back $75. After that InDemand Design plans to sell the battery packs for a staggering $130 – which is a lot of money to spend on a product from a brand new, untested company. Considering that's dangerously close to half the price of a Switch itself, you'd be right to maybe exercise a little hesitation before firing on this one.
But at the same time I hope it works. Having half a day's worth of battery power on the Switch will certainly come in handy on long flights and extended bits of travel. So if this thing really works, great.
Last Updated: April 6, 2017