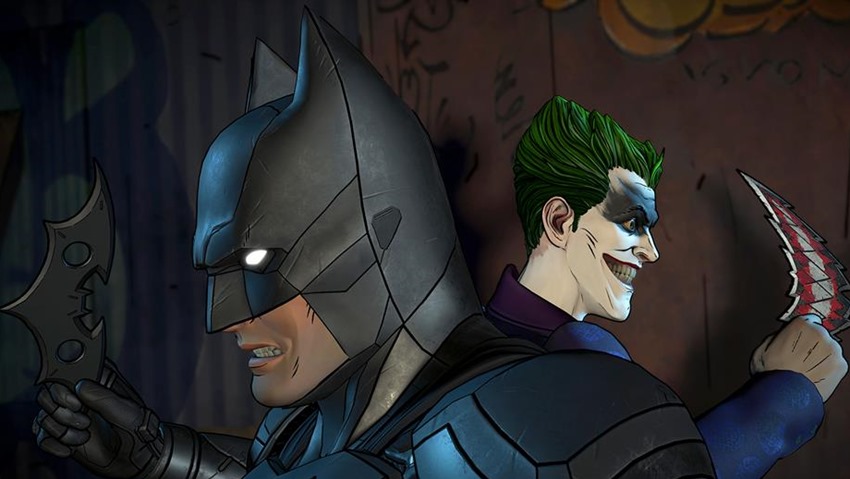 Telltale's sophomore season of their Batman saga may have got off to a slow start, but sweet exposed legs of a crime-fighting and bird-themed partner was it worth the wait for the payoff that occurred in episode four. While the first season of Telltale's Batman was a story about the duality of being Bruce Wayne, The Enemy Within has taken a more subtle turn and instead crafted a story about the Dark Knight's greatest nemesis: The Joker.
John Doe is no more, and in his place stands a man who'll either be a dark mirror to Batman's vigilante actions or a nemesis that Gotham deserves. The choice, is up to you. You'll have to think quick however as the season finale, Same Stich" hits console and PC on March 27. Here's a few screens that want to know why you're so serious, as well as an official description for a showdown that has been decided entirely by you:
What would you choose: a friend whose unhinged approach to justice turns your allies against you, or a sworn enemy who will stop at nothing to see you suffer as your city burns? Based on the relationship you've built with John Doe, you'll see one of two very different stories play out. So what'll it be, Bruce: friend…or foe?
Telltale says that this final episode is its most decision-influenced version yet, as your actions towards John Doe will result in one of two distinct personalities emerging across three and a half hours of content that only have two overlapping scenes. That's 4500 lines of dialogue, 38 characters and a script that's "larger than Christopher Nolan's entire Dark Knight trilogy" apparently. "Without exaggeration, Same Stitch is the most ambitious piece of content Telltale has ever produced," Season Lead Writer James Windeler said in a press release.
We had to adjust our usual development process to accommodate the added scope, but it was super important to us to honor players' choices, whether they chose to befriend John or not. We had to deliver on the season's central promise of allowing players to craft their own Joker.
In my own playthrough, I've genuinely treated the Joker like an ally, but I've done so in a manner where I've used him to further my own ends within the narrative of The Enemy Within. Seeing which version I get at the end of the month, should be interesting. Hell, it might even put a grisly smile on my face.
Last Updated: March 9, 2018