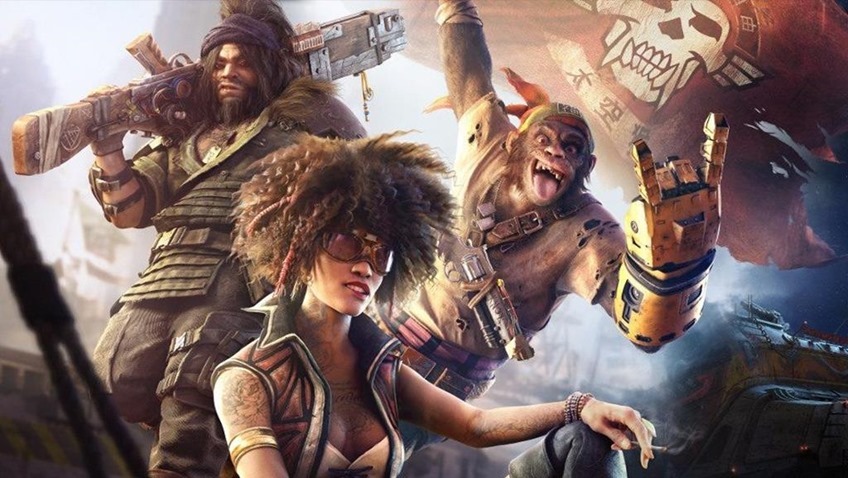 Ah E3. That one time of the year that is utterly magical. I'm not just glad that I'm going. I'm bloody grateful for a chance to visit Los Angeles once again. I'm excited, I'm revving to go and I'm more than willing to endure a literal 24 hours worth of air travel just to get there. Why? Because some of the finest games in the land will be on show there.
Games that will define the greatest interactive medium ever made, push them in new directions and just be a bloody hoot to play. Here's a list of ten such games, that the Critical Hit massive is eager to experience.
Ghost of Tsushima
You think of the games that helped define the PlayStation 4 early in its infancy, and I'd rate SuckerPunch's InFAMOUS: Second Son very high on that list. Full of heart, style and amazing visuals, InFAMOUS: Second Son had another massive feather in its cap: Amazing areas to explore. The streets of Seattle were a character in their own right, factors which I'm chomping at the bit to see in Ghost of Tsushima.
It's SuckerPunch casting a historical eye at Japan during the tumultuous founding of that nation, as they faced not only in-fighting but also a Mongol horde that decimated the land and forever changed human history. Should be interesting to see what SuckerPunch paints on that canvas.
Anthem
EA has gotten a lot of flack over the last two years. Deservedly so I might add, as Star Wars Battlefront II and almost everything else that the company pushed out in 2017 was riddled with microtransaction nonsense. Here's the thing: I'm a very forgiving fella, and with Battlefield V showing signs of EA listening to its fanbase and dialling back its more visible greed, I'm holding out some hope for Bioware and Anthem.
It is very much Bioware's make or break game. Anthem will define the company and their future, as they're chucking a ludicrous number of eggs into that basket. So far, it looks superb and if it can benefit from EA's new direction to not nickel and dime their loyal fans? I think Destiny is going to be in a whole heap of trouble. I'm spelling that with a capital TROUB.
Spider-Man
The Xbox 360 and PlayStation 3 era of Spider-Man games started off strong. Shattered Dimensions and Edge of Time were great web-spinners in their own right, and then everything went horribly wrong. It was bad enough that we got two successively terrible Spider-Man movies in those days, but two atrocious games as well? Man, that was the web that broke the camel's back.
Fans didn't want a cheap tie-in to an abortion of a flick. They wanted a game that would remind them why Peter Parker is one of the greatest blue-collar heroes in the world today. They wanted a publisher with the power and the responsibility to do right by the character. By the look of things so far, I think Insomniac is on the right track to realise the ultimate Spider-Man game. Because right now, their efforts look spectacular.
Spyro Reignited Trilogy
Nostalgia is a hell of a drug! While Activision is hitting E3 with a bang in the form of the multiplayer-centric Call of Duty Black Ops IIII and Destiny 2: Forsaken, its the chase for a certain purple dragon that everyone is eager to see. It's your childhood gaming memories reimagined with better visuals, provided by Skylanders studio Toys for Bob as Spyro spins out a trilogy of remastered games. Chase that dragon fellas, chase it hard.
Super Smash Bros
I actually wanted to include Pokémon on this list, but Geoff kicked my door down and flung me out the window after demanding I change the post to include Super Smash Bros. I'm guessing that the game must be popular or something, go figure. Also, please call me an ambulance.
"HI, YOU'RE AN AMBULANCE!"
Guys, I can't feel my legs over here.
Rage 2
The original Rage…well it was a very alright game, but it didn't set the charts on fire. Its upcoming sequel? To paraphrase Graham Chapman's army colonel from Monty Python, it looks very silly indeed. Wonderfully silly that is, as Rage 2 is going all in on its premise and running wild with its madness as Just Cause developer Avalanche takes over and puts their own spin on the franchise.
Beyond Good and Evil 2
I've got a confession to make…I've never played the original Beyond Good and Evil. It's a classic by any stretch of the imagination according to anyone who has experienced it, and Ubisoft's upcoming sequel is a dream game that has been years in the making. Will it most likely be given the Ubisoft treatment that takes the game and places it into a sandbox system that functions as a game service over the long run?
Probably, but this is one game world that I actually would love to see further explored. Because monkeys guys, monkeys.
Death Stranding
Hideo Kojima, gaming's weird chap and visionary. Its been a good couple of years since Kojima split from Konami after Metal Gear Solid V was launched, and Sony was quick to snap the developer up to create something for the PlayStation console. What that something is, is a game that so far makes less sense than the enduring popularity of Michael Buble's music.
What exactly is Death Stranding? Nobody knows for sure even after a series of cryptic trailers, but hopefully 2018 is the year in which we can at least see how the game will actually look in action. Which I'm assuming will be just as weird as its preceding cinematics.
Battlefield V
New year, same conflict! The war between EA and Activision heats up this year, as Electronic Arts is shifting its Battlefield series to a fifth incarnation. Its EA's turn to storm Normandy Beach, with their take on the global war that defined humanity and its greatest generation. Mankind's darkest hour will no doubt look utterly fantastic in its execution thanks to that DICE magic, and I can't wait to see what kind of technical wizardry Battlefield V will have for the latest hardware on show.
Cyberpunk 2077
If The Witcher developer CD Projekt Red decided to eat an actual baby on brown bread, they'd get away with it thanks to all the goodwill they've generated from their series of games starring Geralt of Rivia. Hell, Cyberpunk 2077 could spend another decade in development and nobody would complain, as the fans love CD Projekt Red that damn much.
Still, it'd be nice to see something from the studio. Especially if that something is some real gameplay for their future tale of rebellion in the dark digital corners of a twisted future.
Last Updated: June 6, 2018