World of Warcraft: Battle for Azeroth has had its fair share of issues since launch. Being dubbed "Beta for Azeroth," fans felt that what they were offered was an incomplete rushed game with repetition content and nothing outside of raiding felt rewarding enough for PVE players. PVP players, on the other hand, are enjoying one of their best expansion in years, but is that really enough? Blizzard's next big content patch for World of Warcraft will be the Tides of Vengeance.
Up until now, it seems the Horde has been winning. They destroyed the Alliance at Lordaeron, and subsequently blew it up once the Alliance received help from Jaina. Before that, Sylvanas burnt down the Tree of Life, so you can say the Alliance are all but broken at this point. That's where the new cinematic comes in – Lost Honor. Here we picture a surrendered Saurfang in an Alliance dungeon where his honour is questioned by young Anduin only to reveal the next steps in the Alliance's comeback story.
Tides of Vengeance releases on the 11th of December and brings patch 8.1 after months of testing in the beta. With the major content patch comes much-needed changes to Azerite Armor, dungeons and events, but more on that later. The biggest part of Tides of Vengeance is the Alliance, now battered and bruised are heading back to where it all went horribly wrong at Shaldrassil, the Tree of Life. The Saurfang you see in the cinematic above is a visage of the man he once was and we can pinpoint his loss in faith of leader Sylvanas to the moment where she burnt down the home of the Nightelfs. Nightelfs play a crucial role in the Tides of Vengeance as they head back with the Alliance to face the horde and retake Dark Shore.
Lead by Malfurion Stormrage and Tyrande Whisperwind a message is sent back to the Horde after a supply chain to the Darkshore Warfront is attacked by the two Druids. Being the leaders of the Nigtelfs, the two were hardest hit when the tree was burnt. Their message is clearly sent as they arrive at the Darkshore ready for their own war effort.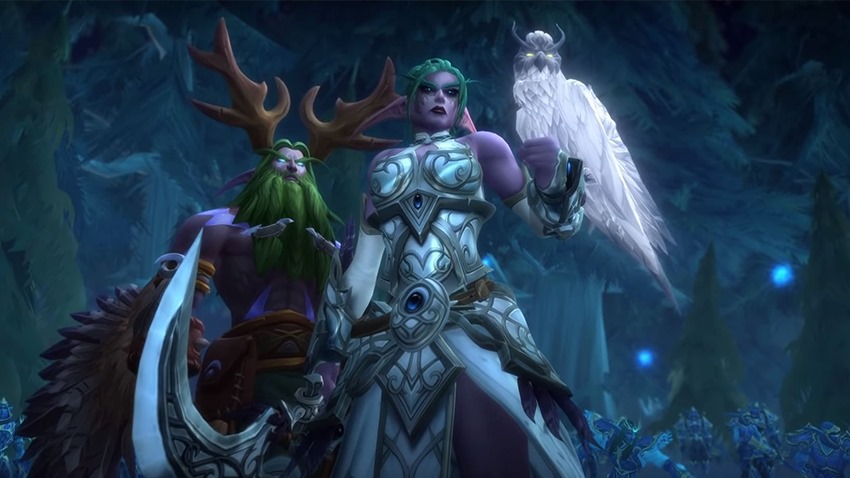 What's next for World of Warcraft is a ton of content, so if you had plans in December – cancel them. On the topic of Warfronts and war efforts, Blizzard is increasing their daily occurrences as the current format leaves almost two weeks open before the same instance resets while the Alliance attack. They're also improving on professions, adding Tools of Trade which is a much-needed adjustment as professions often taper off as the expansion continues.
The brawler's guild will be returning in 8.1.5 (the next patch after Tides of Vengeance), new Portal Rooms for fast travel are being added to Ogrimmar and Stormwind. They also went ahead and announced the next big content patch – Rise of Ashara. This will include Nazjatar and new story quests, new allies to the Horde and Alliance, Replayable content, new enemies, new mounts and rewards which were shown on screen. The new raid will be Ashara's Eternal Palace and will have 8 bosses where we will finally fight Queen Ashara herself.
Blizzard is also throwing in a brand new landmass called Mechagaon which is the ancient Gnome land and introducing Mechagnomes (new race?).
Added in this content patch will be a new Mechadungeon (similar to that of Kharazan in Legion) which will have 8 bosses. It will be Mythic only and have new mounts and pets to farm (yay!). Finally, we will be seeing new "Heroic Warfronts" which will be a bit harder but offer better rewards. It seems flying will also arrive in the Ashara patch which means we will finally stop running around on the ground and make travelling less tedious.
Despite being bitterly disappointed with Diablo, Warcraft seemed to save the day with Reforged and what's next for World of Warcraft. It's no secret that content has been lacking since launch but Blizzard trying their utmost to play the never-ending balancing act while trying to keep the community satisfied. At the moment it seems they're taking community suggestion to heart as they're looking to improve on a lot of the current issues such as Azerite Armor and Dungeons. It won't be until the Mythic Dungeon Invitational is over till any real changes come to dungeons as Mythic+ at the moment is extremely tedious and not as rewarding for the casual player. As for Azerite Armor, Blizzard is changing the way it's acquired in Mythic+ by adding a familiar vendor and a new currency for purchasing dungeon gear.
In closing, the future of Battle for Azeroth looks promising as great content is lined up for the end of this year and going forward.
Last Updated: November 3, 2018