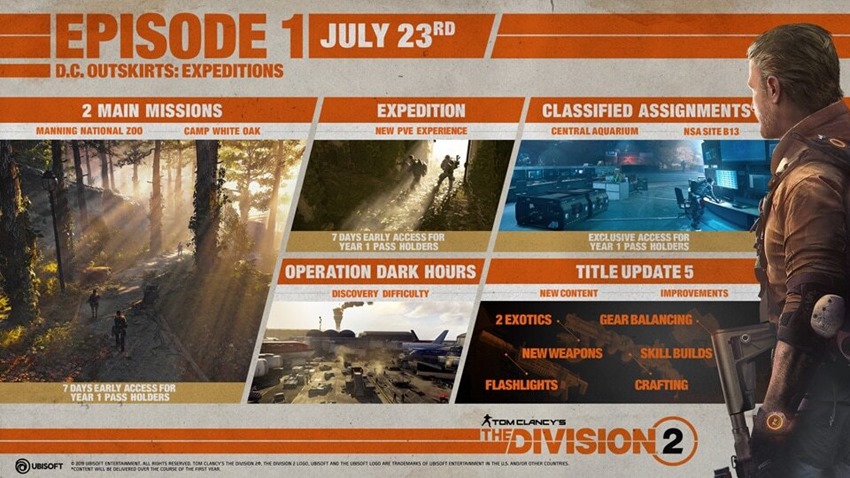 There's a whole bunch of content on the way for agents in The Division 2 and much like the small snippets of food I gorge on from kiosks in supermarkets that are manned by young sales ladies desperately hoping that I'll piss off, it's all freeeeeeeeeeee! Episode 1 – DC Outskirts: Expeditions is the name of the extra stuff that'll be popping up in The Division 2 on July 30, which will bring with it several fixes, tweaks and a whole host of other extras.
Episode 1 will kick off with two new missions in the main storyline, set in the Camp White Oak and Manning National Zoo area. Did anyone remember to feed all the wolves before DC fell to the Dollar Flu epidemic? And why do I hear so much hungry howling in the background? Nah, must be my imagination: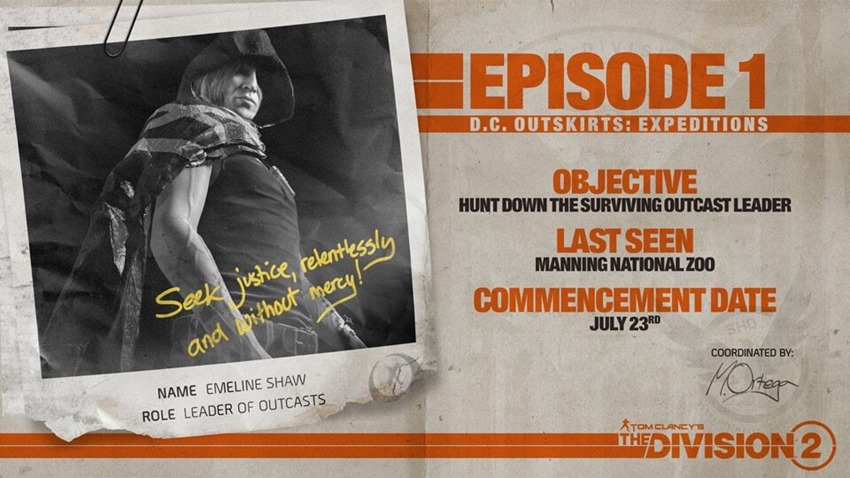 Camp White Oak: Bring the traitor President Andrew Ellis to justice as you assault a presidential compound in the woods.
Manning National Zoo: Emeline Shaw, leader of the Outcasts, has holed up in the zoo to regain her strength. Agents will hunt down and eliminate Shaw to keep the Outcasts from reclaiming power in the city.
The other big addition will revolve around Expeditions in the Kenly College zone, which focuses the action on what developer Massive calls three wings of exploration. There'll be a new wing released each month, which will reward players with some neat gear. "Completing all three wings grants access to an exclusive treasure room full of rewards," Massive said in a press release. Here's the rest of the content that'll be arriving at the end of the month:
New weapons and gear
One exotic weapon: Diamondback Rifle
One exotic gear: BTSU Datagloves
Two weapons: Stoner LMG and Carbine 7
Classified Assignments (exclusive to Year 1 Pass holders)
Agents can take on two new Classified Assignments in Washington's Central Aquarium and NSA Site B13.
New Discovery Difficulty setting for the "Operation Dark Hours" Raid
The new Discovery Difficulty, along with its corresponding matchmaking option, will allow more players to experience the first-ever Division raid. While Operation Dark Hours Exotic loot remains exclusive to the Normal difficulty, Agents playing the Discovery Difficulty can still expect to score worthwhile loot.
Crafting improvements
Players can now craft gear up to Gear Score 500 and share blueprints across characters. Additionally, crafted weapons can now be recalibrated.
Season pass owners will get all the content listed above a week early, starting from July 23. Guys, I think the wolves are getting closer. Oh dear…
Last Updated: July 11, 2019