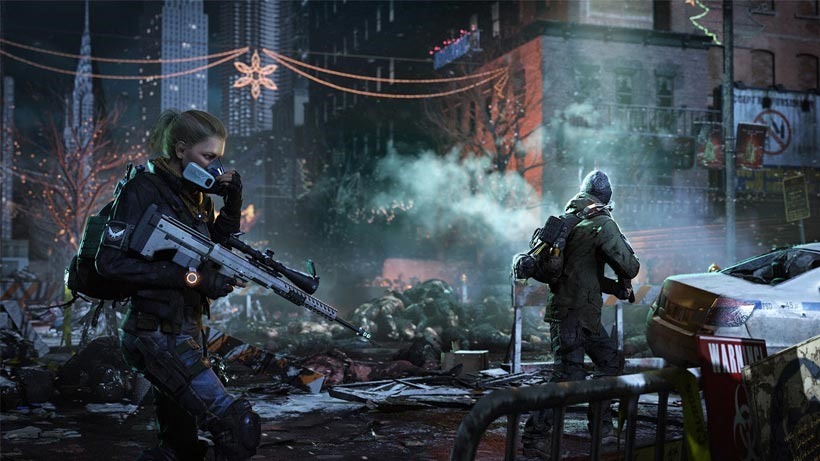 Happy The Division day folks! Ubisoft's RPG-shooter is finally here, alive and kicking as people work some magic to fake a doctor's script that has them booked off from work due to an unfortunate case of super-ebola. There's a whole city out there, waiting to be explored in The Division, but much like any metropolis in any nation these days, there's a few areas that you might want to avoid if you've just started ranking up.
Remember, The Division has two main sections: The core game area where you'll take part in the story of the worst Black Friday ever, and the Dark Zone. The actual map of The Division is completely unlocked from the start, with the only barrier being enemy forces who boast a significant level advantage in some of the deeper sections.
Generally, you should be able to take down any enemies who outrank you by a handful of levels, but anything above that will result in a quick death, RPG-style. The Dark Zone is the Las Vegas of The Division: Anything goes, and what happens in the Dark Zone generally stays in the Dark Zone. Remember, you're not only dealing with aggro enemies here, but sneaky human players who have a tendency to go rogue if they spot that you have some decent loot on you.
Anyway, here's a rundown of the various districts in The Division, and the rank that your agent should be when entering them, via The Division wiki:
Districts
Brooklyn –  1-3
Camp Hudson –  3-4
Chelsea –  2-4
Pennysylvania Plaza –  3-5
Hudson Yards –  5-9
Garment District –  5-9
Tenderloin –  9-12
Times Square –  10-13
Hell's Kitchen –  10-13
Clinton –  14-15
Flatiron District –  15-16
Gramercy – 16-18
Stuyvesant –  18-19
Kips Bay –  20-23
Murray Hill –  24-26
Turtle Bay –  27-28
Midtown East –  28-30
The best part about this setup? The always satisfying feeling of returning to a zone that you previously struggled in, except you're now armed to the teeth with hard-won weapons and have enough skills to win a world war. Who's laughing now, gangster scum?
Last Updated: March 8, 2016