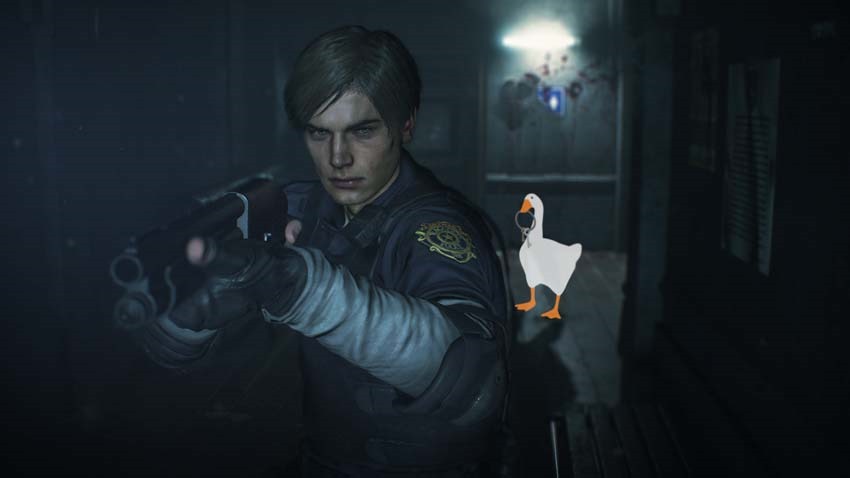 If the 2019 gaming year has a face, it certainly isn't a human one. In a year that saw Devil May Cry return, Final Fantasy XIV reach glorious new heights and FromSoftware prove that they're the undisputed master of their particular craft, 2019's biggest hit game may just be…a goose. An Untitled Goose Game to be exact, as the indie gem took the world by storm and unleashed a ton of fan homages to the tale of a simple goose being a massive jerk.
There's a ton of fan art out there, other video games will no doubt have references to that darn goose in the years to come and you can even 3D print the unruly feathered menace if you want to have the little fella on your desk. Or if you're feeling brave, you can return to Raccoon City and see if you can survive going toe to toe with a souped up goose who is out for blood.
Modder Alister has somehow managed to insert the goose into Resident Evil 2's recent remake, replacing the nigh-unstoppable Mr X with a being that is pure honking fury and is capable of pulling off a trendy fedora. I'm M'ladying so hard right now that I can't even handle the majesty of this silly and brilliant mod in action:
The mod isn't ready just yet, but it will be soon enough. Until then, there's a bunch of other Resident Evil 2 mods that make me wish I had a PC that could play the game just so that I can indulge in the silliness. From a tweaking of the game files that inserts DMX whenever Mr X appears to a mod that replaces him with Thomas the tank engine train, PC gaming's best and brightest have had a field day with the distance that they've pushed the sublime Resident Evil 2 remake in.
Last Updated: October 21, 2019