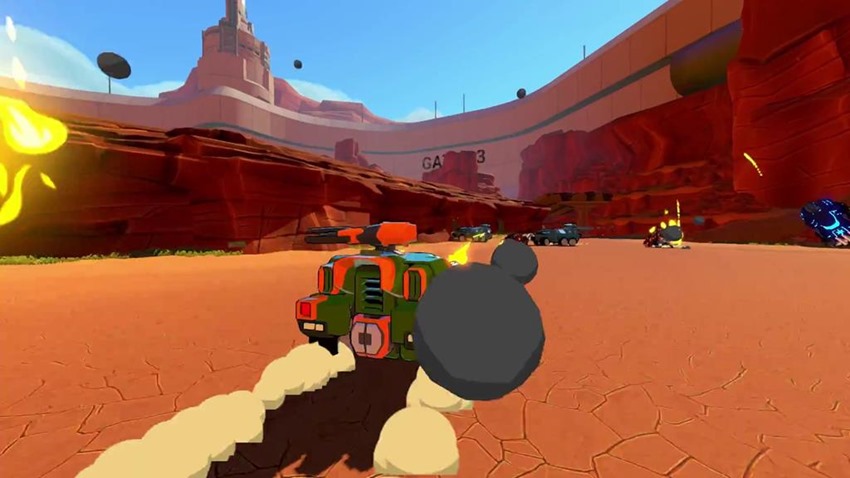 Y'know, maybe I'd be interested in owning a car if they were cool. Hot hatchback? More like…not…hot…thatch spine dammit this joke is harder than I thought. Point is, is that I'd be keen on driving a car if I could make it traffic-friendly. By traffic-friendly, I mean placing guns, armour-plating and explosives on my vehicle and then being allowed to use it without any risk of blue-light consequences demanding that I pull over.
That would be…just the best. Especially with Christmas around the corner. While my terrible fantasies are likely to never come true unless I'm finally elected into office (On the platform of making teenagers serve a mandatory tour of duty in the food service industry so that they can learn true suffering), I will at least be able to live out a few vehicular carnage dreams in Auto Age: Standoff. Here's a trailer for it:
Dammit, I am a total sucker for 1980s synth-music like that. "Auto Age is an ideal multiplayer experience that melds fast-paced vehicular dogfights with team strategy," Phantom Compass studio director Tony Walsh said in a press release.
With easy-to-learn controls and kinetic matches, players can spend hours destroying their friends (and enemies) online and on the couch. To enhance the experience, we will use player feedback to update Auto Age with new content and gameplay after release.
The action unfolds in the far-off future of 1980, and will allow for players to customise their rides with rockets, rams and mines as more weapons are unlocked. Yes, the rest of the game will also have that rocking soundtrack, as Phantom Compass say that Auto Age will have a "retro-future dashboard mixtape and soundtrack, where guitar-shredding and synthwave music power a thirst for vehicular destruction. "
Right, I'm sold. Auto Age: Standoff rides into combat on September 21. It'll have multiplayer combat with real people and bots on launch, across Team Deathmatch, Free For All Deathmatch, Base Assault and other skirmish modes in the near future.
Last Updated: September 6, 2017