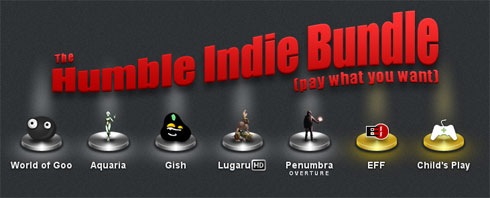 Here's a promotion i can really get behind. The Humble Indie Bundle is a unique collection of indie games – not only unique in that they're indie games – which tend towards originality – and that the bundle will costs you as much or as little as you want. It's especially unique in that the proceeds can be split – whichever way you like – between the developers and selected charities.
The games in the bundle – World of Goo, Aquaria, Gish, Lugaru HD, and Penumbra Overture – sell for about $80 combine, so the price of whatever the bloody hell you like is a pretty awesome bargain. The charities involved are Child's Play and Electronic Frontier Foundation – and payments are through Paypal, Amazon or Google Checkout. While I already own World of Goo and Penumbra, I've heard Aquaria's pretty damn good.
All games are DRM free and work on PC, Linux and Mac – so there's really no excuse. Check it out here : http://www.wolfire.com/humble, and hit the jump for a particularly corny promotional video.
Last Updated: May 5, 2010