Team Lazygamer is unbeatable at Rocket League. FACT! We're also filthy liars. FACT! Still, we're confident liars at that, which is why we decided to challenge all of you to Rocket League. Who would dare face us, the wonderful wordsmiths of gaming jurnalizm? WHO I ASK? Lots of you apparently, because hot damn we got a bunch of teams entered! Are you ready for some football VROOM VROOM? Good, because The Super Lazygamer Rocket League Championship starts NOW!
The Teams
First, let's get some housekeeping out the way. Some of you entered solo with the hope of joining a community dream team. We sorted everybody accordingly, and came up with the following community squads:
Lazy Gamers
Eric Castleman
Andre Ferhelst
Trevor James
Lazier Gamers
Francois Swanepoel
Graeme Selvan
Faisal Al Mutairi
Even Lazier Gamers
William (email address has magee in it)
Nikola Domazet
Saami Siddiqui
Super Lazy Gamers
Charles Small
Claudio (whose email has something to do with a toothbrush)
DJQUACKQUACK
How Lazy Can You Be?
Markus Kuhn
Leighton (email address has "Labu…" in it)
Sizzle (Jp?)
Are You Even Trying?
Marius Nell
Marco Bellina
Clark Johnson
Yes, we came up with the team names ourselves. 10/10 for creativity I say!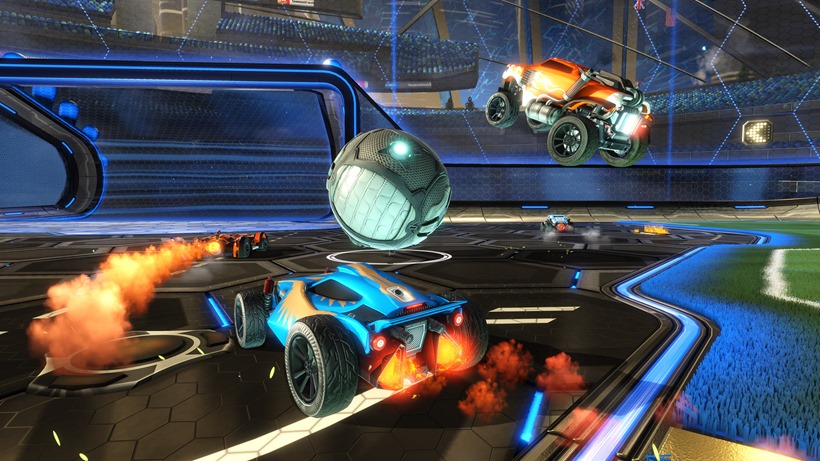 Here are all the other teams that entered. Please make sure your team is here!
Lazygamer All Stars (the clear winners)
Bafana
Zara's Angels
G3AR
Xplosive Gaming
EGMR
Team Instinct
tehScrublords
Fer Gassy!
The Jewish Bears
The Pattyrollers
Tjoekies
TUBE
SA Gamer
Winners by forfeit
Fire Storm
Team Instinct
percussioN
The Sick Whiffs
Team Rocket
Lazygamer Sans Frontiers (Darryn's team of sub-b Rejects. BE AFRAID!)
The Tournament
You can keep track of the tournament bracket right here. Here's what it looks like at the moment: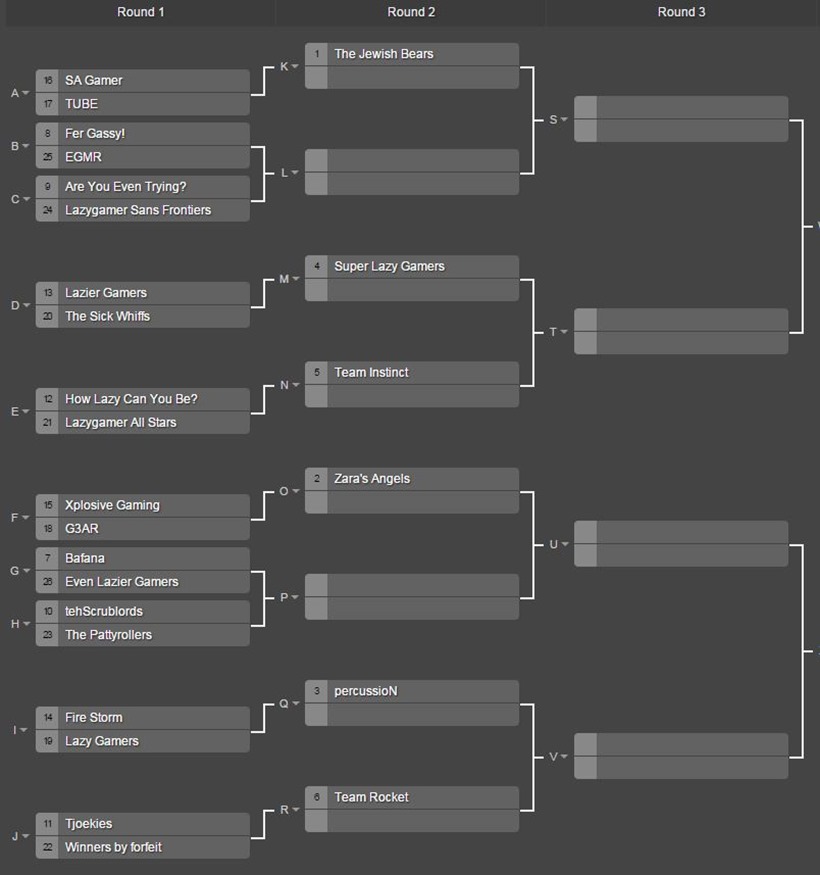 Don't worry if you lose your first game. There is a losers bracket, meaning there is hope for redemption!
Timeframes
Ok so, my idea is to have round 1 games completed by no later than this Thursday the 17th at 23:59. I will then post an update on Friday. I would then like to have Round 2 games completed by no later than this Sunday the 20th at 23:59.
Are you seeing the pattern I'm going for here? That's two rounds of games a week if I can help it, Monday to Thursday, and Friday to Sunday. Those days should be more than sufficient to play a best of 3 Rocket League Match.
If this first round takes longer than expected, no worries. I will see how things are on Friday and let you all know what's the plan of action moving forward. I suspect Round 1 will only conclude on Sunday.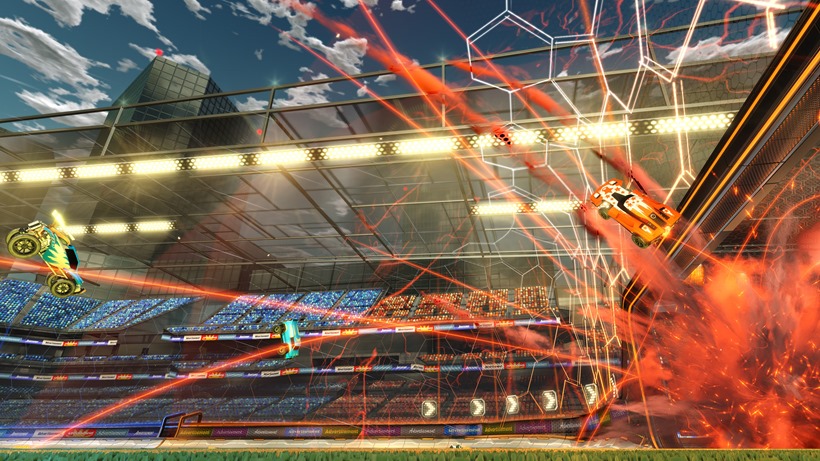 Organising your game
Now, this is the tricky part. Getting the admin in this tournament 100% right is going to be nothing short of impossible if I do it alone, which is why I need YOUR help. I'm leaving it up to YOU to organise a time with your opponent, set up a lobby accordingly, play the game, and then report  the score.
How do I find my opponent?
I am going to mail each team with their game and opponent's details. Please check your spam in case you don't have anything by the time you read this! We have also set up a Rocket League chat room for general banter.  Please join it and feel free to partake in some smack talk!
If you do hit any snags with organising games, please feel free to email me directly on matthew@lazygamer.net. I will help in whatever way I can.
How do we play?
Depending on what agreement you and your opponent have come to (date and time), somebody needs to set up a private lobby. Give it a name and password, and get all relevant players to join. Both PC and PS4 can crossplay in a private lobby. Make sure it's set to Europe! Arena is personal preference I suppose.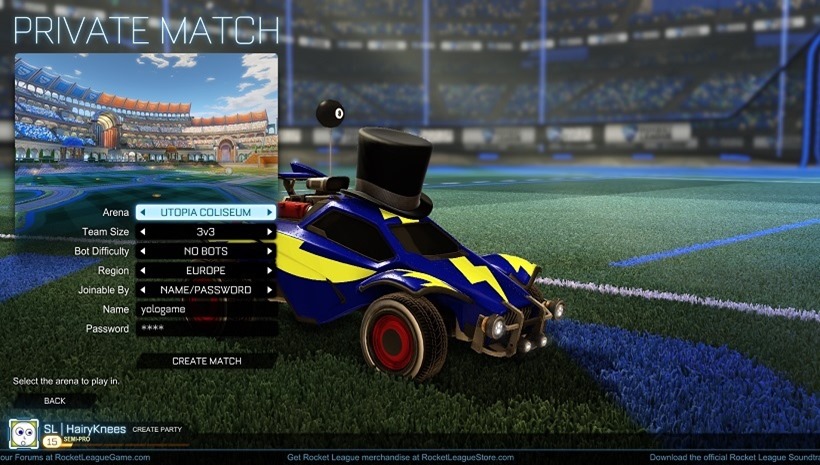 Match format?
Easy! Set up your lobby, and play best of three.
Where do I report my score?
You can report your score to me at my email, matthew@lazygamer.net. If you can help it, make the subject line relevant to what game was played. Whether you won or lost, please let me know your result! I will NOT be trawling through the comment section here, or tweets, or anything else. It will make my life infinitely easier if I could get a mail with the match played and the result.
What can I win?
We have been offered some prizes. If you can make that pool bigger, please mail me! I will announce what is up for grabs all in good time.
Anything Else?
I think that's it. If you have any questions, please just shout at me (over email). I will reply as soon as I can! Also, please remember that patience is key. We will try have this tournament running as smoothly as possible, but the likelihood of hiccups here and there is too damn high!
Otherwise, expect this tournament to go for the next few weeks. Perhaps closer to the end when there are fewer teams, we can speed things up.
Oh and lastly, if I get no shows from teams beyond this first week (the teething period), I'm going to be handing out forfeits. Rules are rules!
Now if you'll excuse me, I'm off to teach Sandy and Gav how to be good. WE WILL SEE YOU ON THE TRACK! I MEAN FIELD! TRACK AND FIELD DAMMIT!
Last Updated: September 15, 2015