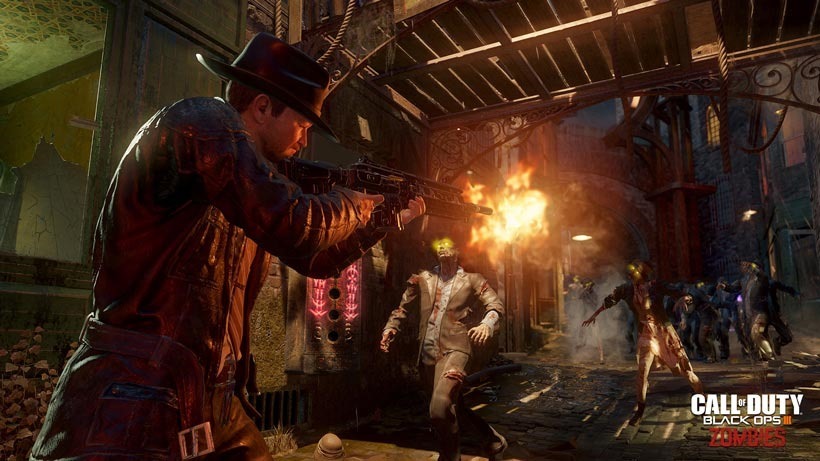 I'm a fan of 66% of any Call of Duty game. A third of my love goes to the single-player when I power through it on a weekend, and the other third goes to the extra mode, such as Zombies or Extinction.
I'd give the final third of that love to the multiplayer mode, but I can only handle so many hours of being consistently crap at it while first-world nations benefit from a solid online connection that makes it look like their bullets are engaging in some wibbly-wobbly timey-wimey time travel.
What I would love 100% however, is a Call of Duty that was just pure zombies. Imagine it, a three year development cycle from a studio, dedicated to the brain-munchers. Oh man, I'd be in heaven, like a necrophiliac landing a job at the local morgue.
Thing is, that won't happen. Ever. Because that kind of game wouldn't cater to every audience.
"Sometimes you want to watch a movie and want to be engaged narratively on a concept," campaign and Zombies mode director Jason Blundell said to Eurogamer.

And then we have multiplayer–sometimes you just want to run around and have that high-engagement experience. And sometimes you want to kill the undead–sometimes you want to play Zombies.

We see by the numbers and how people engage with the game as a whole, people change that feeling. They'll move between the different modes.
It's really about flexibility and variety of choice for the amount of people who buy our games
Unlike the standalone zombie games on iOS, I'd bet. Yeah, those actually do exist.
This year's Zombie mode features the usual quartet of actors to headline the title; Jeff Goldblum, Heather Graham, Neal McDonough, and Ron Perlman. It's looking decent, and I can't wait to sink my teeth into it. Wait, why are you pointing a shotgun at me? It was just a figure of speech!
KABLAM!
Last Updated: October 16, 2015