I've said it before and I'll say it many more times before I'm a dried, lifeless husk; Plants vs Zombies is one of the best games that has ever been made. I am, of course, talking about the original Plants vs Zombies; the lane-based tower defence game that had you planting sunflowers to generate energy and then defending lawns and gardens from oncoming waves of increasingly menacing zombies on their quests for brains.
The game was simple in concept but frankly incredible in its execution, a delightfully difficult but fair and balanced game that's still fun to play today. I don't care nearly as much for its sequel, which is a free-to-play game that throws half the balance out of the window in favour of microtransactions. It's honestly just a chore to play. While I'm not putting the blame on PopCap's parent company EA, it's probably worth noting that the exploitative, grindy sequel was developed after the company was acquired by the mega-publisher.
I hadn't expected there to be a new sequel, but EA's confirmed the existence of one, seemingly out of nowhere. The game is in a pre-alpha state and is available to select few playtesters.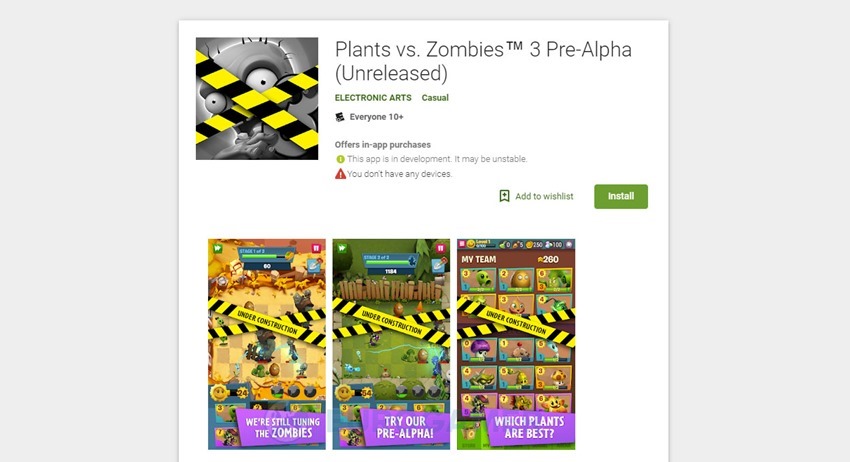 "In this plant-tastic Pre-Alpha, you should anticipate experiencing bugs (zombies don't bathe very often) and other issues," EA says (via Eurogamer)

"Don't soil your plants just yet! Plants vs. Zombies 3 is under early construction and is not representative of the final game. Pre-Alpha is focused on getting your feedback on combat features only. We're saving a lot more for later!"
As expected, this is a free-to-play game that's stuffed with microtransactions that range all the way up to $99. One big change suggested by the screenshots is that instead of planting sunflowers for sun, that now runs off a meter. I can't say that tickles me, but I'll give it a go when it's out in the hope that it even captures a fraction of the first game's genius.
Last Updated: July 18, 2019