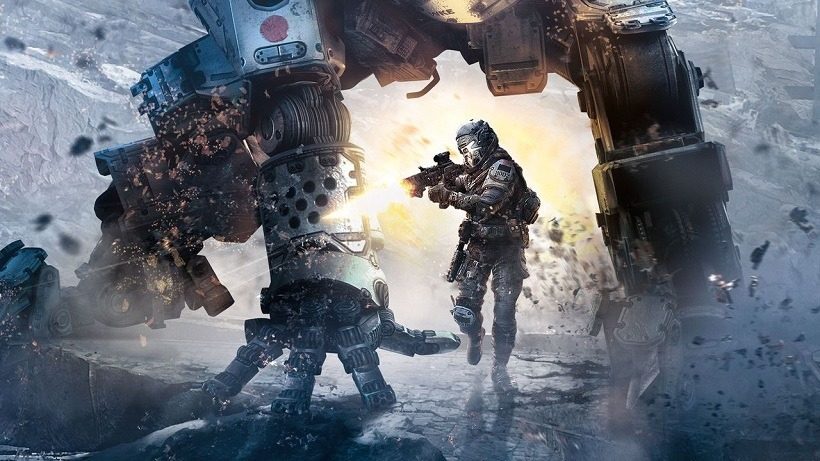 Look, I'm a special kind of stupid. The kind of stupid who is easily swayed by collector's editions and has to deal with buyer's remorse afterwards when I realise I paid many, many pretty pennies for plastic and an art book that is smaller than my bank account afterwards. But I've also reached a point where I'm particularly picky about which collector's editions I lust after.
It's not enough to package a tiny art book, a soundtrack and a plastic bust in a game package these days and call it limited. Like Sergeant Callahan said in the Oscar-nominated Police Academy movie, "I WANT MOOOOOOORE". Titanfall 2 is coming very close to scratching that itch, which now includes a random need to possibly go visit the Blue Oyster and dance. Just dance, that is all:
Vanguard SRS Collector's Edition
Includes Titanfall 2 Deluxe Edition.

Dog Tag Flash Drive: A Pilot's secrets must be carefully guarded, and what better way to keep them close than to store them inside your dog tag. This 8GB USB custom flash drive cleverly retracts into the dog tag on an 18″ metallic ball chain.

Pilot SRS Field Journal: An essential accessory for every Pilot, the field journal is 3″ x 4.5″ and features an aluminum case, pen and Vanguard Squad logo.

Titanfall 2 Vanguard Pilot Helmet Replica: The iconic Titanfall Pilot helmet has been brought to life in this 1:1 full scale replica. Featuring mixed material elements, the helmet includes a battery operated blue light-up translucent faceplate, blue status/task light, functional tactical ARC rail system/an adjustable interior head strap and display stand. Tactical Helmet Accessories: A tactical spotlight and targeting laser sight.

These two battery operated helmet accessories are designed to be mounted on the ARC rail system of the helmet. Independently operated, the functional mounted spotlight will light up the night and the simulated laser sight features a super-bright non-projected red LED.

Squad Morale Patches and Vanguard Shemagh Scarf: Proudly display your squad affiliation with two morale patches, Macallan's Marauders and Ion, with male Velcro-style hook backing to secure onto loop patches of helmets, uniforms, tactical vests, and backpacks. The Vanguard Shemagh Scarf is designed to protect a Pilot's head and neck from the sun and blowing sand of harsh alien environments.

The Vanguard Scarf measures 42″ x 42″ and features an original custom designed Titanfall pattern, making it an essential multi-use travel tool for every Pilot in your squad.
There's also a deluxe edition that includes the aforementioned bust and other goodies, but it appears to be an EB Stores exclusive. For now at least. The Vanguard Edition is currently on Amazon, where it has a price tag of $249.99. So I'd wager it costing an easy R5000 this side of the globe when the game is out, if it makes its way down here.
Which is too rich for my blood. I'm going to go strap a laser pointer to my motorcycle helmet instead and pretend to be special.
Last Updated: June 13, 2016