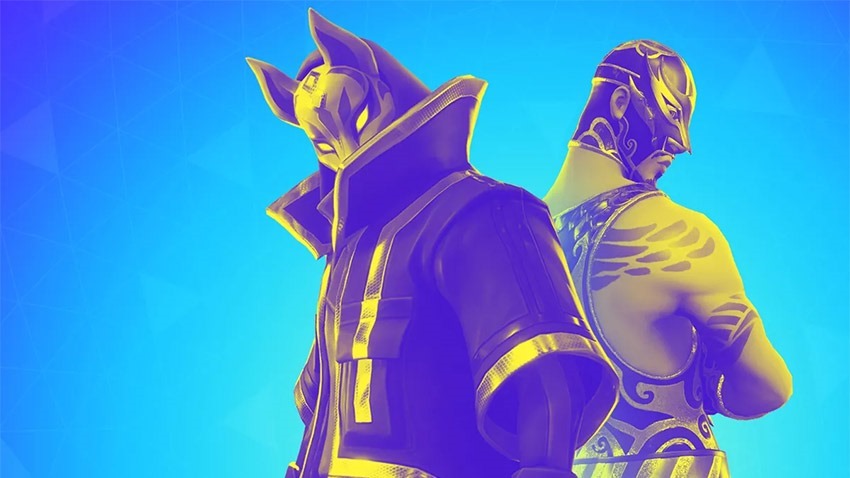 While it's currently one of the biggest games in the world right now, Fortnite is hardly the poster child for esports or competitive gaming. That is something epic is intent on changing though, with the game set to eventually become a large-scale competitive title. That progression begins today, with the introduction of in-game Tournaments. Announced last week, they're in the game thanks to today's 6.10 patch.
The tournaments are available to anyone to play, and will pit players against other hopefuls across platforms. That means that players with mouse and keyboard, controller and even mobile phones will play together, matched with opponents of similar skill. Do better, and you'll go up against tougher competition. Suck, and it'll start getting easier. The tournaments have a target score. By reaching the target score, you'll earn a shiny pin – which could see you gain entry into future tournaments.
Right now, they'll be operating on a schedule.
Alpha Tournament (Solo)

Dates: October 16 – October 21
Description: Participate in the first in-game tournament, spanning across several days of daily competition!

Beta Tournament (Duo)

Dates: October 23 – October 25
Description: Grab a friend and take on the world – until you are the last two left.

Friday Night Fortnite (Squad)

Dates: October 19 – November 30
Description: Join your friends every Friday and kick off your weekend with some exciting Squad action.

Salty Springs Cup (Solo)

Dates: October 27 – October 31
Description: One week and three attempts to prove you're the saltiest that Salty Springs has to offer.

Tomato Temple Cup (Duo)

Dates: October 28 – November 1
Description: Become legends of the Tomato Temple Cup.
"Over the next few months, we'll be continuing to develop the tournaments feature to allow for events to occur across multiple rounds, requiring players to have earned a pin to qualify for each subsequent round. We're working toward establishing an exciting and varied schedule of tournaments for players of all talent levels, featuring new scoring formats and support for additional modes."
Eventually, these in-game tournaments will be used to qualify entry into the Fortnite World Cup next year, through a "'Showdown Royale." It's a nice way , I think, to introduce competitive gaming to a very large audience.
The patch also includes the following general fixes. For full patch notes (which actually included some news tuff for Save The World!), head over to Epic's site.
WEAPONS+ITEMS
Bug Fixes
Fixed small props accidentally blocking Trap placement.
PERFORMANCE
If your PS4 Pro is plugged into a 4K TV, the game now renders at 1440p instead of 1080p.
Audio memory optimizations for Xbox.
Physics optimizations for cosmetic items.
Like esports?
Check out esports central
Last Updated: October 16, 2018