Virtual Reality always has the possibility of presenting some dangerous play scenarios, especially since you're being transported into massive digital worlds in the confines of your small living room. Nothing has quite taken this into its stride as much as GORN though – a new cartoonish, violent gladiator simulator from the folks behind BroForce and Genital jousting. Free Lives have launched their new project for both Oculus Touch and HTC Vive, and it's both gloriously satisfying to play and hazardous to your nearby TV.
If you don't really believe me, just check out the mayhem you can cause in the totally not scripted trailer above (no seriously, I've seen people actually do this while playing).
I haven't played GORN in some time (I got my hands on an early build at AMAZE last year, where I also smashed my hand into a wall while playing), but even then it was one of the most satisfying VR games I had yet played. The room-scale tracking gives you some agency in the ring, with GORN throwing numerous weapons at you to deform your overly muscular foes. The over-the-top gore and accurate tracking just make the entire experience that much more rewarding, so it's no surprise Free Lives is touting it as the best melee combat game available in VR.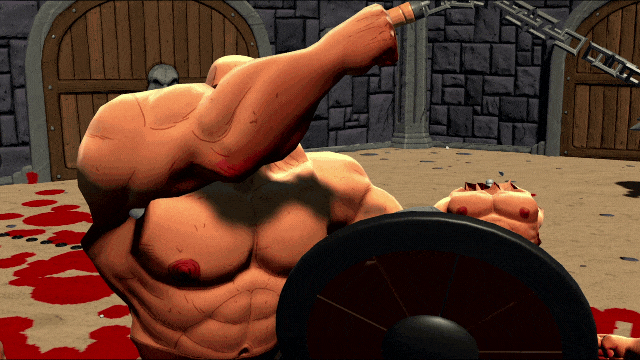 The game is in Early Access on Steam, and will set you back just $15 while it's currently 25% off. Free Lives expects the game to be finishes within three months to a year, depending on how much more content they really want to add.
Last Updated: July 12, 2017