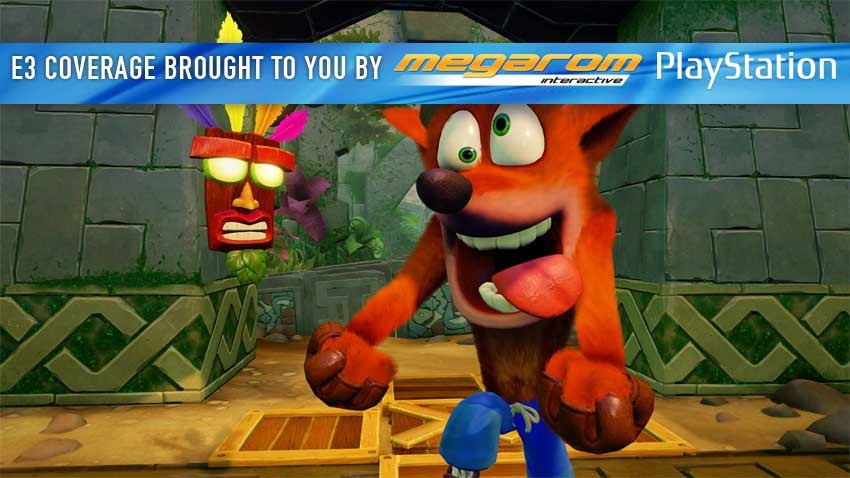 We live in a crazy world. The times are fraught with peril, as certain ideologies sweep the globe and it seems like the general public can't stop voting the worst people possible into power. Amidst all of that, it's comforting to know that the gaming industry is still working to put a smile on your face. Smiles not only from new games but also from heroes who remind you of better and more hopeful times.
Crash Bandicoot easily fits that ideal. The most Australian video game character ever created, Crash is as lovable today as he was two decades ago when he first debuted. He'll be back on more higher-definition screens soon in the Crash Bandicoot N. Sane Trilogy that collects the first three games, gives you the option of playing as Coco whenever you want and applies an extensive coat of remaster paint to the classic platforming action that made Crash so memorable.
But why do people love the crimson spinning marsupial so much? That's a question that I had for the big brains working on the remastered trilogy, as E3 gave me a chance to not only sit down with Crash but also quiz the people behind it. "I think Crash himself and now Coco, I think they're maybe timeless characters but also very much a character of our time," producer Kara Massie explained.
our nerdy selves all relate to him
He's an everyday hero but not particularly heroic in his ways. He's a little bit of a doofus in some ways. We can all be Crash, our nerdy selves all relate to him. I can relate to the nerdiness and cheek of Coco as well. So I think that the lovable cartoon, the playful and joyful character, it's nice to have something that's not so serious right now and I think that the humour of all of it and the silliness is something that we all need right now in our lives. I think it's timely and maybe timeless as well.
"I think that Crash is a very relatable character," Crash Bandicoot N. Sane Trilogy director Dan Tanguay added.
It's structured in a way that's very compelling
It's very easy for folks to fall in love with him because he's very expressive and cartoon-like. Speaking for the game, I think that the game is incredibly easy to pick up and play. It's structured in a way that's very compelling. It's structured around trying to complete the whole of the game, which is certainly nice but also provides a good level of challenge.

And certainly by the third game they (Naughty Dog) had layered that challenge in way that meant that you could get to the end of the game and still have so many other things to discover. A lot of games do that these days but Crash was certainly one of the originals to bring that to the forefront.
I did play the new Crash Bandicoot game.  After twenty years away from Crash, I have learnt one important fact about the game: I still suck so hard at it.
Need more E3 in your life?
Check out our E3 2017 portal powered by Megarom Games and PlayStation
Last Updated: June 13, 2017