In this week's rollout of Twitch updates, you'll never miss a broadcast again. Twitch's latest update adds a calendar feature with the hopes that their major events, and ones you're interested in too, will never be forgotten.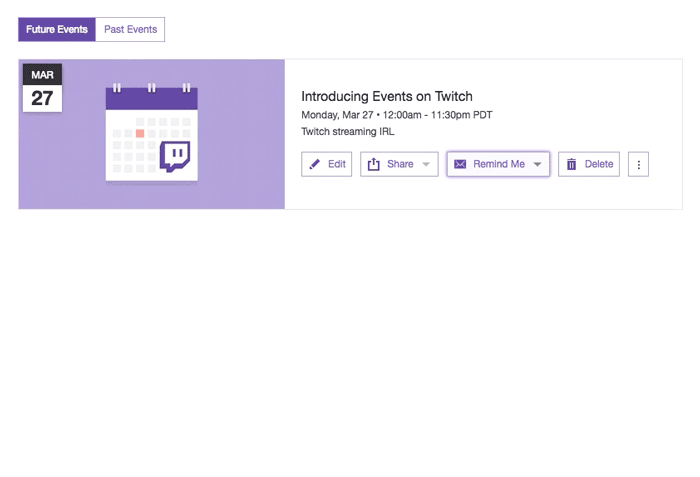 In the GIF above you'll see the options to add this event to your Google, Outlook or even Apple Calendar to make sure you're notified and kept up to date with Twitch streams. Included with a Calendar notification, you'll also get an email an hour before the event goes live. While this is great for Twitch as a whole, streamers will benefit the most with an option to add their events to their channel feed, where users can go and add them to their calendars.
It's unclear if these events will be added as recurring (meaning a streamer goes live every day at 8pm, will I be notified?) That, of course, could become a little bit annoying but it's a great feature for keeping up with your favourite streamers.
Twitch's latest few updates which have come out are pushing the company into a more social platform with the introduction of the Twitch App (taken over from Curse) and the Channel Feed which is hoping to take streamers away from Facebook and YouTube and utilizing the Twitch social platform to communicate with their fans. The Calendar addition is just one more reason people will be paying attention to Twitch and only Twitch, as both Facebook and Twitter tread closely behind with their recent pushes into the streaming industry with a key focus on competitive and casual gaming.
Last Updated: March 28, 2017