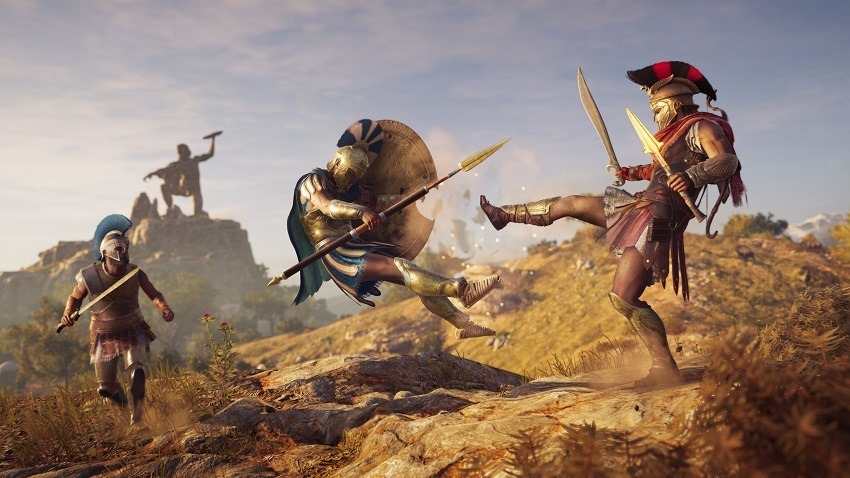 Assassin's Creed took a break in 2017, after Ubisoft recognized that nearly a decade of annualized sequels was very quickly ruining player excitement for new entries and running their most lucrative franchise deep into the ground. The result after that break was a refreshing and revitalised take on the series, with Assassin's Creed Origins shaking up combat, quest structure, exploration and more. Odyssey was revealed at E3 this year to both surprise and jubilation, partly because it means more of the same great systems that Origins introduced but hesitation over the series potentially returning it its formulaic state. Turns out that's not quite the case.
Gamespot caught up with Ubisoft CEO Yves Gulliemot at Gamescom and questioned him about Assassin's Creed returning to a yearly structure after Origins and this year's Odyssey. It turns out that both games were started by two different Ubisoft studios at around the same time, which resulted in them launching after one another. But Ubisoft isn't ignoring the lessons they learnt from the short break, which is why there won't be an Assassin's Creed in 2019.
"On Assassin's, we had a game [in 2017] and we have one this year, but we are not going to have a full-fledged Assassin's next year," said Guillemot. "It's just because the team were working separately, so we have two games now, one year after the other. But next year you're not going to have a full-fledged one."

"What you'll have is lots of content coming on [Assassin's Creed Odyssey]. The team really want to give, on a regular basis, some new possibilities for play, so when you get [Odyssey] this year, you're going to get in for a couple of years, actually."
Unsurprisingly, Ubisoft is treating Odyssey as a platform to build on in the same way as Origins, which saw a healthy post-launch supported by DLC drops and additional free content. Odyssey doesn't yet have any expansions announced, but Guillemot made it clear that there would be lots for players to look forward to in 2019. He also clarified that there aren't any plans for spin-offs of any sort to bridge the gap between core releases.
This is a clever move by Ubisoft, and gives them more time to really iterate on each new core Assassin's Creed release without the stress of having to put on out every year again. Supporting Odyssey allows them to keep the conversation around the game going without the need to address its burnout, and also gives big fans of the franchise something new to look forward to. What will be interesting to see is where the series goes. If one year off gave us the jump from Syndicate to Origins, I wonder what another year will do for the franchise.
Last Updated: August 22, 2018